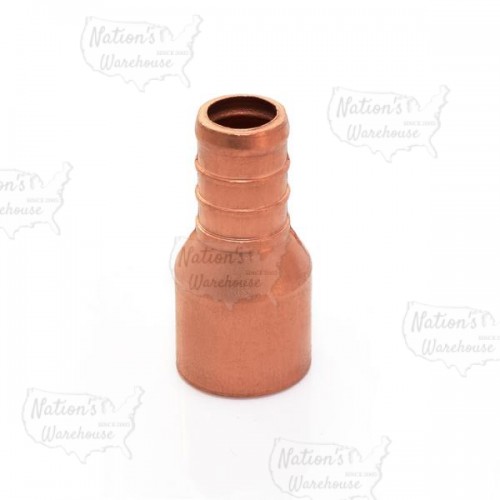 644X2 from Sioux Chief is a 1/2" PEX x 1/2" Copper Pipe Adapter, Lead Free Pipe Fittings are used in pipe systems to connect straight pipe or tubing sections, to adapt to different sizes or shapes, and for other purposes, such as regulating or measuring fluid flow. This fitting connects PEX tubing to copper pipe in a straight line.
The POWERPEX collection by Sioux Chief offers all PEX systems and connections: ASTM F1807 Crimp™, ASTM F2080 Lock™ & ASTM F1960 Grip™. The industry's most robust offering from valved terminations in Access Boxes, to water heater connectors, to copper assemblies, kits or manifolds. Grip fittings can be used with PEX-A tubing only.
• One-piece solid copper
• 1" PEX connection x 1" Male Sweat Copper fitting;
• PEX crimp style connection;
• Meets ASTM F1807;
• Corrosion-resistant, pure copper body
• Lead-free, approved for potable water use.
Brochure:
https://www.siouxchief.com/products/supply/powerpex-systems/astm-f1807/adapters-connectors/straight/male-sweat/copper?template=P3Brochures
Installation Guide:
https://www.siouxchief.com/docs/default-source/technical-documents/installations/supply/pex-systems---powerpex---installation-guide.pdf?sfvrsn=58ef3637_384
About SIOUX CHIEF:
Sioux Chief offers all major PEX systems. Sioux Chief's PEX offering is the most complete in the plumbing industry. All fitting and tubing solutions carry a 25-year warranty, mixed or matched. Sioux Chief does not limit its warranty on tube or fittings based on matching system connections. This is unique.
PowerPEX is warranted across all three of Sioux Chief's PEX system connection offerings, giving contractors the ability to choose the right tube or fitting connection for each application, layout or contractor comfort level. We call this Fitting Freedom™.
Sioux Chief believes intelligent systems may incorporate hybrid PEX offerings to maximize each connection system's benefit. This Power to Choose™ puts the plumber back at the heart of smart plumbing.
Documentation:
For complete product instructions specifications and how-to installation please visit: https://www.siouxchief.com/products/supply/powerpex-systems/astm-f1807/adapters-connectors/straight/male-sweat/copper

Material
Copper
Size
1/2"
Connections
PEX
Sweat
Fitting Type
PEX Copper Pipe Adapters
Application
Heating
Plumbing
Brand
Sioux Chief
Sioux Chief 644x2 1/2 in PEX x 1/2 in Copper Pipe Adapter, Lead Free