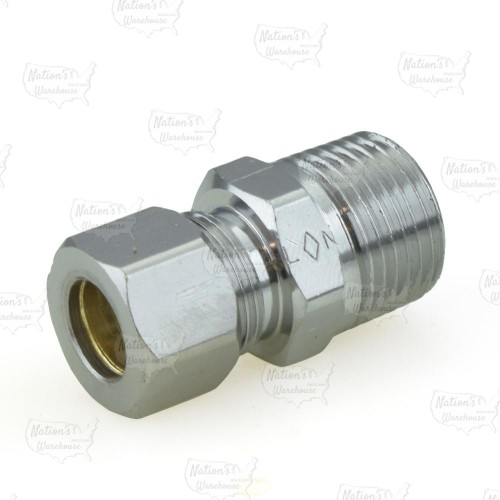 The 11X-C from BrassCraft is a 3/8" OD No Tube Stop x 3/8" MIP Threaded Compression Adapter, Chrome Plated, Lead-Free. It's used to connect 3/8" OD copper pipe/riser (or a flexible water connector) to a 3/8" female threaded outlet or fitting in a straight line. "Drill-through/No-stop" design allows to insert the copper tubing or riser deeper into the fitting without the need to trim it to size. Made from lead-free brass and approved for potable water applications.

Technical Specifications:
Connections: 3/8" OD (1/4" Nominal/CTS) Compression x 3/8" MIP (Male Threaded);
Operating Temperature Range: -65° - 250° F;
Max Operating Pressure: 200 psi;
Material: Lead-Free Brass (Chrome Plated), approved for potable water use;
CSA Listed, NSF/ANSI 372.
Material
Lead-Free Brass
Size
3/8"
Fitting Type
Male Threaded Adapters
Brand
BrassCraft
Finish
Chrome Plated
3/8" OD No Tube Stop x 3/8" MIP Threaded Compression Adapter, Chrome Plated, Lead-Free