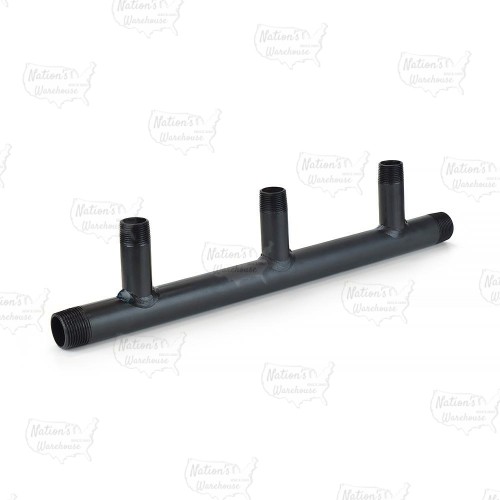 The H100X34-2 from Wright Valves is a 3-branch Boiler Header Manifold, 1" Trunk x 3/4" Outlets, Threaded. It's commonly used in a boiler room as a distribution hub in hydronic and radiant floor heating systems. All ends are NPT threaded to ANSI/ASME B1.20.1 specifications. Each manifold is individually boxed and comes with protective end caps.

Technical Specifications:
Trunk Size: 1" NPT;
Outlets Size: 3/4" NPT;
Number of Branches: 3;
Overall Length: 18";
Overall Height: 3-7/8";
Branch Height: 2-5/8";
Branch Spacing: 6".
Zones
3
Application
Heating
Product Type
Boiler Manifold Headers
Brand
Wright Valves
Branch Size
3/4"
Trunk Size
1"
(3-Branch) Boiler Header Manifold, 1" Trunk x 3/4" Outlets, Threaded