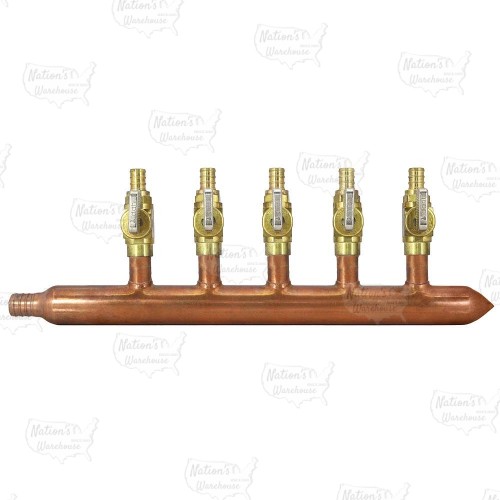 The 672XV0590 from Sioux Chief is a 5-branch PEX closed manifold with PEX Valves. It has a 3/4" PEX inlet and 1/2" PEX Valves branches. This item is great for plumbing applications. It can be used as a primary or secondary manifold. Compatible with all PEX types.
Features:
1/2" PEX Valves branches, 3/4" PEX inlet;
PEX crimp style inlet/outlet;
1/4-turn ball PEX valves;
Lead-Free;
Made from pure, L-type copper;
Compatible with crimp ring or cinch clamp connection systems;
cUPC listed;
Made in the USA.
Material
Copper
Application
Plumbing
Product Type
PEX Plumbing Manifolds
Manifold Type
PEX In. w/ Valves (Closed)
Branches
5
Valve Options
PEX Manifolds w/ Valves
Outlets
1/2" PEX Crimp
Trunk Style
Closed
Brand
Sioux Chief
Sioux Chief 672XV0590 5-Branch Manifold, 3/4" PEX x 1/2" PEX Valves x Closed