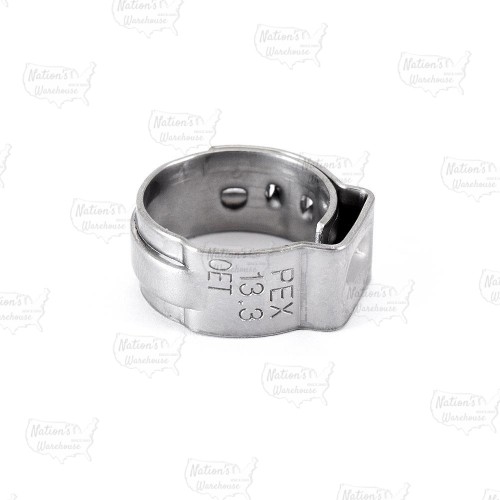 The 16703334 from Oetiker is a set of 3/8" PEX stainless steel cinch clamps, specifically designed for use with a PEX clamp tool, PEX tubing, and crimp style PEX fittings. Ideal for installing radiant heating system in confined spaces. Use with fittings and tubing of appropriate sizes. It is perfect for the DIY homeowner or the professional looking for the perfect for heating installation, repair and renovation. Stainless Steel Cinch Clamps are perfect for connecting PEX pipe to crimp-type fittings in hard-to-reach spaces. Simply pinch the tab closed with the Cinch Tool to make the connection. Cinch Clamps are made from corrosion-resistant stainless steel. The PEX stainless steel Cinch Clamps are designed to provide long-lasting strength.
The Oetiker 3/8 in Pex Stainless Steel Cinch Clamps has a 3/8 Pex Tube, 7mm x .6 mm Material Dimensions, size of 13.3 and closing force maximum is 22.00 .
Features:

Manufactured to ASTM F2098 standard
NSF certified
Made in the USA
Set of 100
Nations WareHouse.com has a variety of sixes for stainless steel cinch clamps. Let us supply you with all your plumbing, heating and cooling needs.
About OETIKER:
The international group of Oetiker production facilities manufacture at fourteen locations on three continents. Always in close proximity to our customers. Always in accordance with unified quality standards far above norm.
With over 75 years of global experience, we design, test and deliver reliable connections daily that are simpler, smarter and stronger than ever before. We help our customers to drive innovation in motion.
It offers:
Connecting Solutions:

Clamps & Rings
As the original inventor of the ear clamp and the global leader in connecting technologies – Oetiker's clamps and rings are made with quality that you can rely on.
Heavy Duty Strap
Heavy Duty Straps are available in a large variety of standardized and custom band materials and components.
Quick Connectors
Oetiker's quick connectors are reliable, compact, high performing sealing solutions with tool-free assembly

Assembly Solutions: Oetiker offer a wide range of assembly solutions from Hand Tools to Pneumatic and Electromechanical Assembly Systems.

Ear Clamp Assembly
Low Profile Assembly
Multi Crimp Ring Assembly
Oetiker also offers high quality technology such as CrossTech, ForceTree, PexGrip, StepLess, ToothLock and WingGaurd.
With almost 2 billion clamps and rings produced, Oetiker's connecting solutions contribute to the safe driving and operation of 90 million vehicles annually.
Documentation:

Size
3/8"
Fitting Type
St. Steel Cinch Clamps
Application
Heating
Plumbing
Product Type
PEX Fittings
Brand
Oetiker
Oetiker 3/8 in PEX Cinch Clamps, Stainless Steel (100/bag)