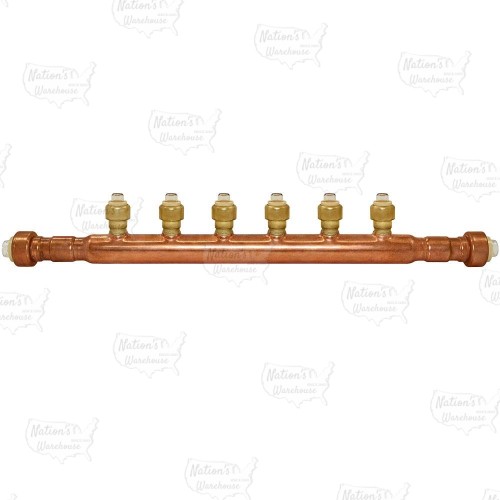 The 672Q0699 from Sioux Chief is a 6-branch PEX open manifold. It has 3/4" PEX inlets and 3/4 PDQ Trunk, 1/2" " PEX branches and open trunk. It features push-to-connect branches and inlets that create an airtight water seal with ease. This item is great for plumbing applications. Can be used as a primary or secondary manifold. Compatible with all PEX types.
Features:
Plumbing Done Quickly
Easy & Fast Compliant Plumbing Solutions
Universal: Works with all CTS pipe types
Removable, Replaceable, Reusable.
No Lead Copper
1" Type L copper trunk
Branches are 2" on-center
Perfect for hybrid potable water piping systems
PEX push-to-connect style inlet/outlet;
Includes PEX stiffeners;
Lead-Free;
Made from pure, L-type copper;
Compatible with crimp ring or cinch clamp connection systems;
cUPC listed;
Made in the USA.
Sioux Chief 672Q0699 is a PDQ BranchMaster 3/4 inch PDQ x 1 inch Type L Copper Spin Open Trunk. Branches are 2 inches on center. It is a PDQ Push to connect and is ideal for all plumbing projects. This Spun Closed Trunk is meant for easy installation.

Brochure:

https://www.siouxchief.com/products/supply/specialized-supply/pdq-push-fittings/manifolds/pdq-%c3%97-spun-closed-trunk?template=P3Brochures
About SIOUX CHIEF:

Sioux Chief offers all major PEX systems. Sioux Chief's PEX offering is the most complete in the plumbing industry. All fitting and tubing solutions carry a 25-year warranty, mixed or matched. Sioux Chief does not limit its warranty on tube or fittings based on matching system connections. This is unique.
Sioux Chief believes intelligent systems may incorporate hybrid PEX offerings to maximize each connection system's benefit. This Power to Choose™ puts the plumber back at the heart of smart plumbing.

Material
Copper
Application
Plumbing
Product Type
PEX Plumbing Manifolds
Manifold Type
Push-to-Connect (Open)
Branches
6
Valve Options
Valveless PEX Manifolds
Outlets
1/2" Push-to-Connect
Trunk Style
Open
Brand
Sioux Chief
Sioux Chief 672Q0699 6-Branch Manifold, 3/4 in x 1/2 in, Push-To-Connect x Open, Copper