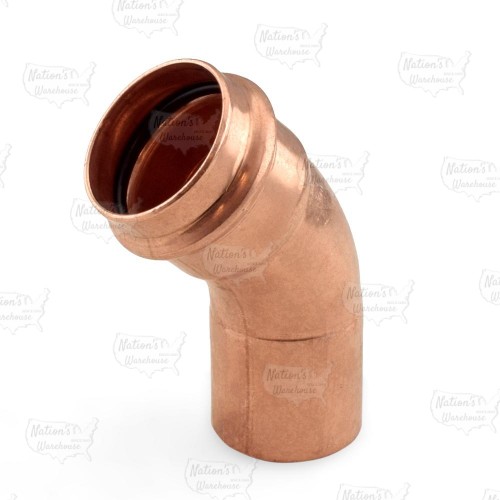 The 10075084 from Apollo is a 1-1/4" Press Copper 45° Street Elbow. This press elbow fitting connects 1-1/4" copper pipe to 1-1/4" press fitting outlet at a 45-degree angle.

Features:
Made in the USA;
Lead-free, approved for potable water use nationwide;
Meets NSF/ANSI 61 & 372, UPC and ICC compliant (see Literature for complete list of approvals);
Applications include hot & cold water plumbing, hydronic heating (incl. ethylene, propylene and butylene glycol mixes), compress air (oil-free), low pressure steam, vacuum, grey water and others.;
Heat & flame-free installation, no fluxing, cleaning, soldering or prep. work;
Compatible with most compression tools;
Leak Before Press feature.

Technical Specifications:
Hot & cold water: up to 200 psi at 33°F-250°F;
Low pressure steam: up to 15 psi;
Compressed air & inert gases:Technical Specifications: up to 140 psi;
For use with: K, L & M types hard (drawn) and soft (annealed) copper tubing;
O-ring material: EPDM;
O-ring lubricant: NSF/ANSI 61 listed silicone oil.
Material
Copper
Size
1-1/4"
Connections
Press
Fitting Type
45° Press Street Elbows
Product Type
Copper Press Fittings
Brand
Apollo
Origin
Made In USA
1-1/4" Press Copper 45° Street Elbow