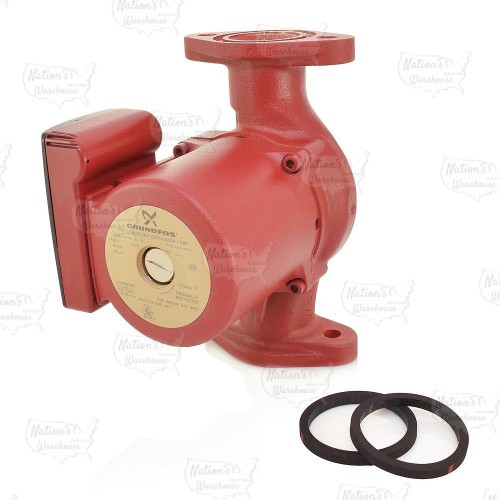 Grundfos UP43-44BF is a Bronze Circulator Pump (Grundfos SKU# 52722439) designed for use in both open and closed loop heating applications and well as hot water recirculation, cold water chilling and many others. High flow (high velocity) and low/medium pressure drop of the Grundfos UP43-44BF model make it ideal for use with water-to-water and water-to-air heat exchangers.
Features:
Ceramic shaft and radial bearings;

Carbon axial bearing;

Stainless steel rotor can and bearing plate;

Corrosion-resistant impeller, Composite, PES;

Bronze pump housing;
Technical Specifications of Grundfos UP43-44BF:
Speeds: 1;

Max flow: 67.8 GPM;

Head max: 13.5 ft of head;

Liquid temperature range: 32 - 230 F;

Maximum operating pressure: 145 psi;

Approvals on nameplate: UL, CSA;

Pump housing: Bronze;

Pump housing: DIN W.-Nr. 2.1176.01;

Impeller: Composite, PES;

Maximum ambient temperature: 104 F;

Ambient max at 176 F liquid: 176 F;

Maximum operating pressure: 145 psi;

Flange standard: USA Oval;

Type of connection: Bronze Flange;

Pipe connection: 3/4", 1", 1-1/4" flange (GF 15/26);

Pressure stage: 10;

Flangeto-flange dimensions: 8 1/2";

Number of poles: 2;

Max. power input: 215 W;

Rated power - P2: 0.161 HP;

Main frequency: 60 Hz;

Voltage: 115V;

Current in speed 3: 2.15 A;

Capacitor size - run: 10mF/180 V;

Insulation class (IEC 85): F;

Weight: 15 lb;
Manufacturer's warranty:
2 years from date of installation.
Material
Bronze
Type
1-Speed Pumps
Connections
Flanged
Application
Heating
Plumbing
Max. Head
10-20 ft
Max. Flow
> 50 GPM
Voltage
115V
Horse Power
1/6 HP
Series
UP
Product Type
Circulator Pumps
Brand
Grundfos
Grundfos 52722439 Bronze Circulator Pump, 1/6HP, 115V