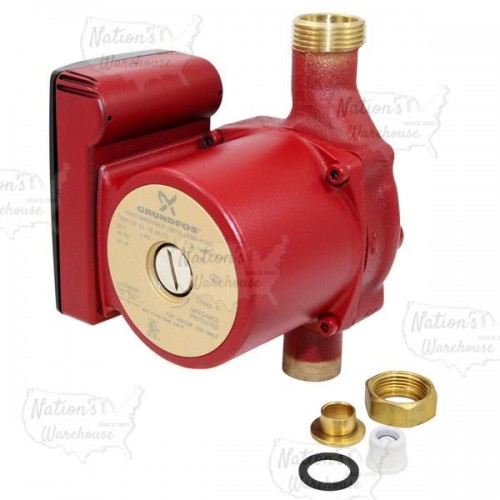 The 59896241 from Grundfos is s UP15-10BUC7 1/25HP Bronze Circulator Pump w/ 3/4" Sweat inlet and 3/4" sweat union outlet with built-in check valve. This pump works well in domestic hot water recirculation, radiant heating, solar, and many others. Due to its bronze pump house, this item suffers from less corrosion thus having a longer circulator life.
Features:
•Ceramic shaft and radial bearings;
•Carbon axial bearing;
•Stainless steel rotor can and bearing plate;
•Corrosion-resistant impeller, Composite, PES;
•Bronze pump housing;
•Check Valve;

Technical Specifications:
•Speed Number: 1;
•Max flow: 14.5 US gpm;
•Head max: 14.4 ft;
•Liquid temperature range: 35.6 .. 230 F;
•Maximum operating pressure: 145 psi;
•Approvals on nameplate: UL, CSA;
•Pump housing: Bronze;
•Pump housing: DIN W.-Nr. 2.1176.01;
•Impeller: Composite, PES;
•Maximum ambient temperature: 104 F;
•Ambient max at 176 F liquid: 176 F;
•Maximum operating pressure: 145 psi;
•Flange standard: USA Sweat;
•Type of connection: Bronze Sweat;
•Pipe connection: 3/4" Sweat;
•Pressure stage: 10;
•Port-to-port length: 7.72";
•Number of poles: 2;
•Max. power input: 60 W;
•Rated power - P2: 0.04 HP;
•Main frequency: 60 Hz;
•Voltage: 115V;
•Current in speed 3: 0.22 A;
•Capacitor size - run: 8F/400 V;
•Insulation class (IEC 85): F;
•Gross weight: 8 lb;

Manufacturer's warranty:
2 years from date of installation.
Material
Bronze
Features
Check Valve
Type
1-Speed Pumps
Connections
Sweat
Union
Application
Heating
Plumbing
Max. Head
10-20 ft
Max. Flow
10-20 GPM
Voltage
115V
Horse Power
1/25 HP
Series
UP
Product Type
Circulator Pumps
Brand
Grundfos
Grundfos 59896124 Bronze Circulator Pump w/ IFC, 3/4" Sweat, 1/25HP, 115V