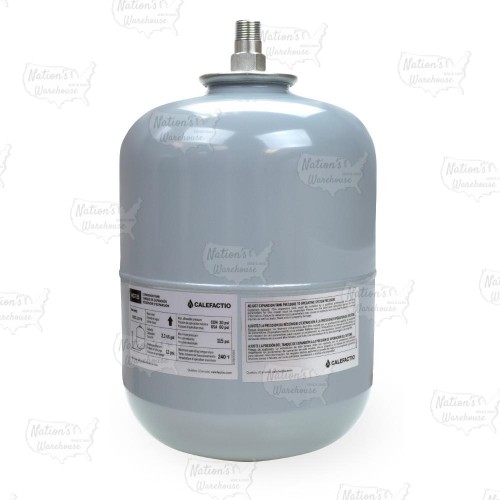 The HGT-15 from Calefactio is an Expansion Tank (2.1 gal). It's a #15 bladder-type expansion tank designed for use in closed-loop hydronic and radiant heating systems. Direct replacement for Amtrol Extrol #15, B&G HFT-15 and Watts ETX-15 models.

Features:
Full acceptance bladder;
Compatible with conventional heating & radiant systems, glycol containing systems (up to 50/50 mix) and select solar applications;
No contact with steel shell means no corrosion;
Bladder design prevents waterlogging;
Direct replacement for #15 models from other manufacturers;
For non-potable water applications only.

Technical Specifications:
Factory pre-charge pressure: 12 psi;
System connection: 1/2" male threaded;
Max. operating temperature: 240°F;
Max. operating pressure: 115 psi;
Expansion tank volume: 2.1 gallons;
Height: 13.7";
Diameter: 7.9";
Weight: 5 lbs.

Warranty:
5-year manufacturer's warranty.
Volume
2.1 Gallons
Series
HTG
Product Type
Expansion Tank
Brand
Calefactio
Calefactio HGT-15 Expansion Tank (2.1 Gal Volume)