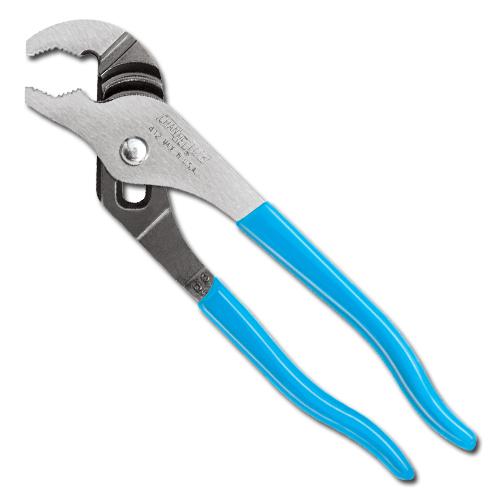 The 412 from Channellock is a 6.5" V-Jaw Tongue & Groove Plier, 1" Jaw Capacity.

Features:
V-Jaws gives more points of contact on round tubing;
Right angle, laser head-treated teeth grip better and last longer;
PermaLock fastener eliminates nut and bolt failure;
Patented reinforcing edge minimizes stress breakage;
Undercut tongue and groove that won't slip;
Channellock Blue comfort grips;
Made in the USA.

Technical Specifications:
Overall length: 6-1/2" (165.10 mm);
Jaw capacity: 15/16" (23.88 mm);
Number of adjustments: 5;
Material: High carbon C1080 steel.
Product Type
Tongue & Groove Pliers
Overall Length
6-1/2"
6.5" V-Jaw Tongue & Groove Pliers, 1" Jaw Capacity