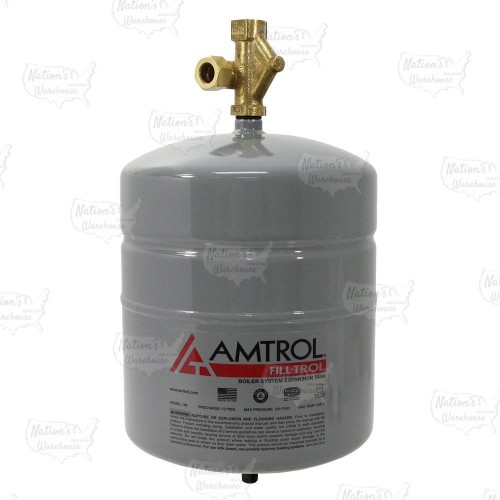 The 109-1 from Amtrol is a Fill-Trol 109 Expansion Tank with Fill Valve (2.0 gal). It contains a diaphragm type Extrol expansion tank and an automatic, fully adjustable to 100 psi pressure reducing Fill-Trol valve. Used in closed loop hydronic heating and radiant heating applications.

Technical Specifications:
Factory pre-charged 12 psi;
System connection: 1/2" female threaded;
Max. operating temperature: 240F;
Max. operating pressure: 100 psig;
Expansion tank volume: 2.0 gallons;
Max. accepted volume: 0.9 gallons;
Height: 14-3/4";
Diameter: 8";
Shipping weight: 5 lbs;

Warranty:
5-year manufacturer's warranty.
Application
Heating
Volume
2 Gallons
Series
Fill-Trol
Product Type
Expansion Tank
Brand
Amtrol
109-1 Fill-Trol 109 Expansion Tank With Fill Valve Amtrol (109) Expansion Tank 2.0 G