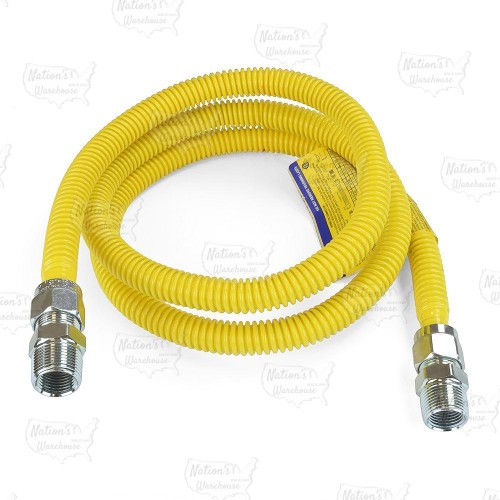 The CSSC11-72 from BrassCraft is a 72" ProCoat Stainless Steel Gas Connector, 3/4" MIP x 3/4" MIP (1/2" ID; 5/8" OD). It provides a secure and lasting gas connection. ProCoat technology provide unequaled corrosion resistance. For use with indoor and outdoor connections of gas appliances to gas piping system.

Materials of Construction:
Tubing: 304L stainless steel;
Coating: Polymer blend;
Nuts: 12L14 or 1010 steel;
Fittings: 12L14 or 1010 steel.

Features:
Superior corrosion resistance to harsh chemicals found in common household cleaning, plumbing repair and masonry products;
UV rays & salt resistant, ProCoat gas connectors are certified for indoor & outdoor use;
Greater strength & flexibility with greater depth & number of corrugations to withstand greater torque & bend cycles;
Outperforms industry standards for torsion (1.5X) without compromising the integrity of the coating or connector;
utperforms industry standard for repeated bending (2X) without compromising the integrity of the coating or connector;
One-piece construction has no soldered of brazed joints;
Smoother, burnished flare on connector ends seal with less torque;
Uniform coat over entire length of connector for complete corrosion resistance of the stainless steel core;
100% leak tested;
Made in the USA.

Technical Specifications:
Connections: 3/4" MIP Straight (tapped 1/2" FIP) fittings on both sides;
Hose Diameter: 1/2" ID (5/8" OD);
Length: 72";
Temperature: -40°F to 150°F;
Maximum Pressure: standard line pressure up to 1/2 PSI;
Flow Capacity for Natural Gas (Straight Length): 86,000 BTU/hr;
Flow Capacity for LPG/Propan (Straight Length): 137,600 BTU/hr.
Length
72"
Application
Plumbing
Product Type
Gas Connectors
For Use With
Gas Appliances
Brand
BrassCraft
ID
1/2"
BrassCraft CSSC11-72 72" ProCoat Gas Connector, 3/4" MIP (1/2" FIP) x 3/4" MIP (1/2" FIP), Stainless Steel