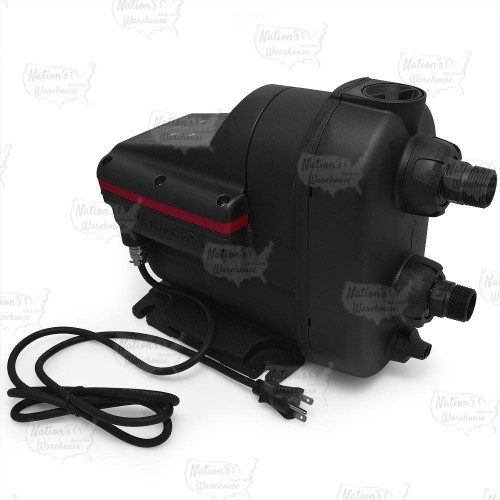 Grundfos SCALA2 is a fully integrated water presure booster pump designed to deliver perfect water pressure. It features pump, tank, motor, sensor, drive and non-return valve all in one compact unit that installs quickly and easily. With its water-cooled motor it offers one of the lowest noise levels in its class. Intelligent pump control adjusts performance to any demand.
Features:
Intelligent pump control;

Water-cooled, permanent magnet motor;

Dry running protection;

Self-priming;

User friendly control panel;

Outdoor-ready;

Easy sizing and selection;

Adjustable constant pressure;

Noise level of 47 dB(A) in typical use.
Technical Specifications:
Voltage: 208-230V;

Main frequency: 60 Hz;

Power: 550W @ 2.3 - 2.8A;

Connection: 1" NPT;

Maximum ambient temperature: 131°F (55°C);

Maximum liquid temperature: 113°F (45°C);

Maximum system pressure: 145 PSI (10 bar);

Maximum inlet pressure: 87 PSI (6 bar);

Maximum head: 148 ft (45 m);

Pumped liquid: Clean, fresh water and chlorinated water < 300 ppm.;

Type of cable plug: NEMA 6-15P;

Enclosure Rating: NEMA 3;

Factory set tank pre-charge pressure: 18 psi;

Maximum Taps: 8;

Maximum Number of Floors: 3;

Net weight: 22 lbs;

Dimension (L x W x H): 15.9" x 7.6" x 11.9" (403mm x 193mm x 302mm).
Max. Head
0-148 ft
100 - 150 ft
Max. Flow
10 - 19 GPM
Voltage
220 - 240V
230V
Horse Power
3/4 HP
Series
SCALA2
Brand
Grundfos
Booster Pump 3/4HP, 230V