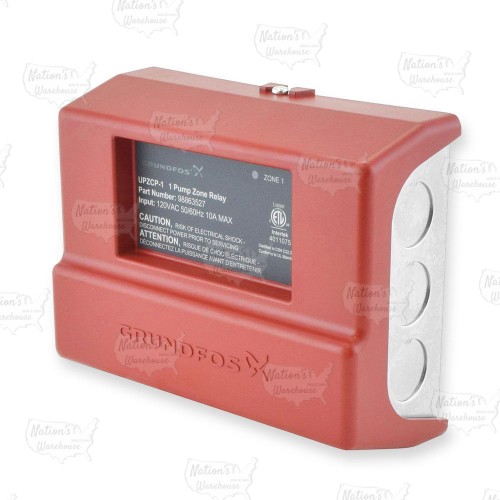 Grundfos UPZCP-1 is single-zone pump control relay for domestic hydronic heating systems. UPZCP-1 relay provides control when zoning with pumps or low voltage zone valves for single zone. Replaces Taco: SR501-4.
Features:
Compatible with 2-, 3-, and 4-wire low voltage controllers or thermostats;
Wiring ease with 120 VAC, ground and low voltage screw terminal inputs;
Low voltage end-switch output terminals for the zone valves;
Front facing LED indicator lights on the cover;
Side mounted terminal connections for ease of wiring and installation.
Technical Specifications:
Input Power (60 Hz): 120 VAC;
Transformer Voltage: 24 VAC, 40 VA, Class 2;
Thremostat Output: 0.125 A;
Maxmum Single Phase Motor Rating (per zone): 5 A;
Maximum combined load rating (output @ 120 VAC): 10 A;
Temperature Range (storage): 50 - 100°F (10 - 38°C);
Temperature Range (maximum operation): 0 - 100°F (-18 - +38°C);
Maximum operating humidity range: 90% RH;
Number of Knockouts: 6;
Size of knockouts: 0.875" (22mm);
Dimensions (W x H x D): 5.93" x 4.80" x 2.36" (151mm x 122mm x 60mm);
Relay Type: Sealed;
Cover Panel: ABS - Fire Rated;
Base Material: Galvanized Steel;
Terminal Block (sied mounted): PA66;
Approvals: CSA 22.2 No 24/UL Standard 873.
Warranty:
2-Year Manufacturer's Warranty
Zones
1 Zone
Application
Heating
Series
Zone Pump Control
Product Type
Switching Relays
Brand
Grundfos
UPZCP-1, 1-Zone Pump Control