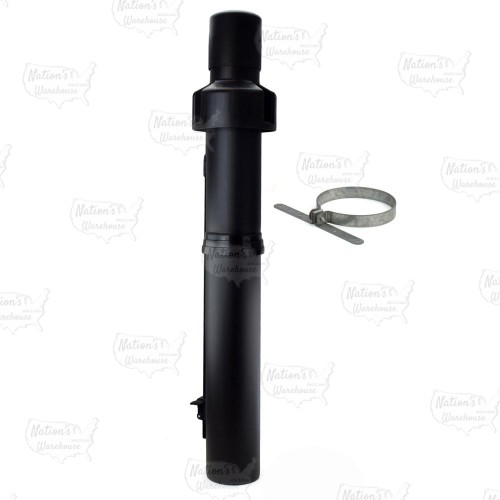 The ICRT4679 from Centrotherm is a Roof Termination Kit for 4"/6" Innoflue Concentric Vent Pipes. The kit includes a roof termination adapter and support clamp for 4"/6" Innoflue concentric vent pipe. It incorporates flue exhaust and air intake into a single unit. Can be converted to SW (Single Wall) piping using ICTC0446 adapter. Overall length: 78.7". Length of concentric pipe below the "roof line: 23.6". Install in conjunction with roof flashing where applicable (flashing ID = OD of concentric pipe). UV resistant, black color.
Features:
Innoflue Concentric is the only polymer vent system on the market listed to UL 1738;
Incorporates flue exhaust and air intake into a single product - requires less space and less wall/roof penetrations;
Accepted and approved by over 50 North Amercian manufacturers of boilers, water heaters and furnaces;
Suitable for natural gas, propane and fuel-oil condensing and non-condensing (flue temp. below 248°F) appliances;
Requires no primer/glue and does not leach chloride like PVC & CPVC;
Costs less and is faster and easier to install than stainless steel venting, no special tools needed, zero clearance to combustibles;
May be installed through a wall, inside a masonry chimney, sheetrock chase or between floor joists;
Lightweight, requires minimal support;
Made in the USA from environmentally-friendly PolyPropylene (PP).
Size
4"/6"
Product Type
Roof Termination
Vent Type
Concentric
Brand
Centrotherm
4"/6" Innoflue Concentric Roof Termination Kit