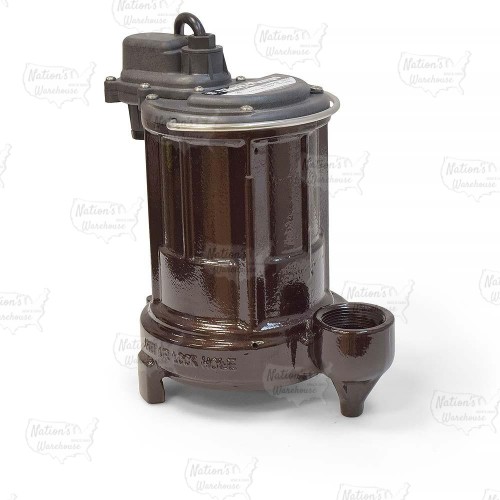 The 250-2 from Liberty Pumps is a Manual Sump/Effluent Pump, 1/3HP, 115V, 25' cord. It features a unique one-piece cast iron housing and thermally protected & permanently lubricated motor. Efficient motor design of this Energy Saving Liberty Pump reduces electrical usage by up to 40%.
Liberty Pumps 250-2 has 1-1/2" NPT discharge, 1/2" solids-handling and 18' shut-off head. It is intended to be run using an approved liquid level control or approved motor control with correct rating that matches motor input in full load amperes. Regardless of the control type, be sure that when the pump shuts off, at least 3-1/2" of fluid is left in the basin so the impeller remains submerged.
Use for De-watering, Sump and Effluent Applications.
For added protection, consider the addition of a back-up pump such as Liberty's SJ10 SumpJet, as well as an alarm such as Liberty's ALM-2 in applications where loss of pump function could result in property damage. If an alarm is used, it must be connected to a separate electrical circuit.
CAUTION: Do not let the pump run dry.

Features:
Rugged 1/3 HP motor, oil filled with thermal overload protection;
1/2" solids handling;
1-1/2" discharge;
Hermetically sealed motor and switch cavities, and permanently lubricated bearings;
Liberty's UNI-BODY casting - a solid, onepiece housing that eliminates the lower motor seal ring found on other pumps;
Epoxy powder coat finish;
Vortex style impeller for superior solids-handling. Made of high temperature engineering polymer;
Quick-disconnect 25' standard power cord allows replacement of cord in seconds without breaking seals to motor;
Fasteners - all non-corrosive stainless steel;
416 stainless steel rotor shaft;

Technical Specifications:
Horsepower: 1/3 HP;
Cord length: 25';
Discharge: 1-1/2";
Solids Handling: up to 1/2";
Shut-off Head: 18';
Voltage: 115V;
Amps: 5.2;
Hertz: 60 Hz;
Phase: 1;
Maximum fluid temperature: 140°F;
Height: 10.5";
Width: 9.6";
Weight: 23 lbs.;
Minimum pit/basin diameter: 14" in Sump and 18" in Effluent applications;
Minimum pit/basin depth: 18" in Sump and 24" in Effluent applications;
Material
Cast Iron
Type
Manual
Application
Plumbing
Voltage
115V
Horse Power
1/3 HP
Series
250
Product Type
Effluent Pumps
Sump Pumps
Cord
25'
Max Shut-Off Head
20-30 ft
Max Flow @ 5' of Head
40-50 GPM
Brand
Liberty Pumps
Liberty Pumps Manual Sump/Effluent Pump w/ 25' cord, 1/3HP, 115V