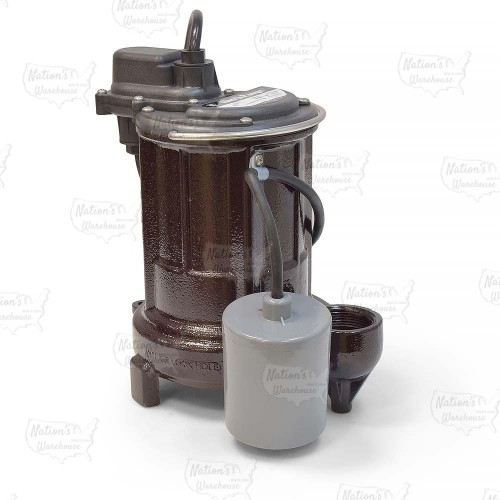 The 251-2 from Liberty Pumps is an Automatic Sump/Effluent Pump w/ Wide Angle Float Switch, 25' cord, 1/3HP, 115V. It features a unique one-piece cast iron housing and thermally protected & permanently lubricated motor. Efficient motor design of this energy saving pump reduces electrical usage by up to 40%.
The switch of this pump is factory-preset and is not adjustable. Turn-on level of the switch is 11" and turn-off level is 4-1/2". Other pumping differentials may be obtained by tethering the switch cord to the discharge pipe. NOTE: A minimum cord length of 3-1/2" from the tether point to the top surface of the float is required for proper switch operation. If using a differential other than the factory setting, be sure that when the pump shuts off, at least 3-1/2" of fluid is left in the basin so the impeller remains submerged.
Liberty Pumps 251-2 has 1-1/2" NPT discharge, 1/2" solids-handling and 18' shut-off head.
Use for De-watering, Sump and Effluent Applications.
For added protection, consider the addition of a back-up pump such as Liberty's SJ10 SumpJet, as well as an alarm such as Liberty's ALM-2 in applications where loss of pump function could result in property damage. If an alarm is used, it must be connected to a separate electrical circuit.
CAUTION: Do not let the pump run dry.

Features:
Rugged 1/3 HP motor, oil filled with thermal overload protection;
1/2" solids handling;
1-1/2" discharge;
Hermetically sealed motor and switch cavities, and permanently lubricated bearings;
Liberty's UNI-BODY casting - a solid, onepiece housing that eliminates the lower motor seal ring found on other pumps;
Epoxy powder coat finish;
Vortex style impeller for superior solids-handling. Made of high temperature engineering polymer;
Quick-disconnect 25' standard power cord allows replacement of cord in seconds without breaking seals to motor;
Fasteners - all non-corrosive stainless steel;
416 stainless steel rotor shaft;

Technical Specifications:
Horsepower: 1/3 HP;
Cord length: 25';
Discharge: 1-1/2";
Solids Handling: up to 1/2";
Shut-off Head: 18';
Voltage: 115V;
Amps: 5.2;
Hertz: 60 Hz;
Phase: 1;
Maximum fluid temperature: 140°F;
Height: 10.5";
Width: 9.6";
Weight: 23 lbs.;
Minimum pit/basin diameter: 14" in Sump and 18" in Effluent applications;
Minimum pit/basin depth: 18" in Sump and 24" in Effluent applications;

Warranty:
3 years manufacturer's warranty
Material
Cast Iron
Features
Wide Angle Float Switch
Type
Automatic
Application
Plumbing
Voltage
115V
Horse Power
1/3 HP
Series
250
Product Type
Effluent Pumps
Sump Pumps
Cord
25'
Max Shut-Off Head
20-30 ft
Max Flow @ 5' of Head
40-50 GPM
Brand
Liberty Pumps
Automatic Sump/Effluent Pump w/ Wide Angle Float Switch 25' cord, 1/3HP, 115V