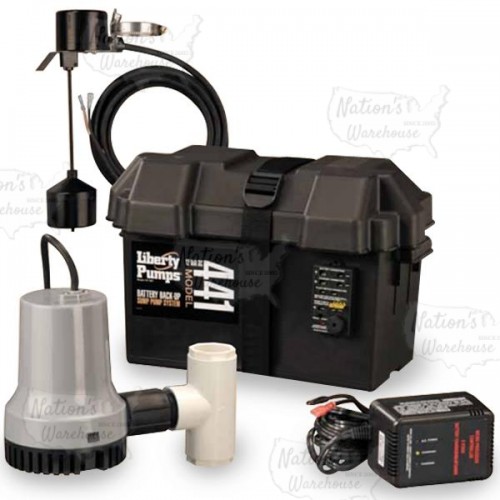 The 441 from Liberty Pumps is a Battery Back-Up Sump Pump System w/ Alarm, 12V. It is designed only as a temporary means of pumping when a primary sump pump has problems with normal operation. The Liberty 441 is not intended to be used as the main sump water removal pump. The Liberty Pump 441 is a high output, submersible pump with an automatic, mercury-free switch. It comes equipped with a control panel, battery box, 12V charger and 1-1/2" or 1-1/4" connections.
The Liberty 441 features an advanced 5-stage charging system. This system tests the battery and maintains a maximum charge without running the battery down or self-discharging. A sophisticated charging algorithm continuously tests the charging process from start to finish. The frequency of pump cycle, length of running time and pumping head will vary the lifetime of battery operation. Under a continuous-run situation, the battery will last up to 4 hours and up to 30 hours in intermittent operation.
This backup sump pump system is not to be used on flammable liquids or chemicals, only use to pump clear water. The battery charger for the Liberty Pump 441 must be kept dry and away from damage.

Features:
Audible in-use alarm and light
High output 12 volt submersible pump
Automatic, mercury-free float switch
Control panel
Works with marine-type deep-cycle batteries (not included with system) Type M27 recommended
Reverse battery and short circuit protection
12 volt charger
Automatic start-up
Advanced 5-stage charging system
Red "Fault" L.E.D. warns of a problem with the battery or charging process
Tee, check valve and bushings for 1-1/2" or 1-1/4" connections
Easy wiring with slip-on connectors and terminal block

Technical Specifications:
Connections: Adapts to 1-1/2" or 1-1/4" Discharge
Charger Input: 120Vac, 0.19Aac, 60Hz
Charger Outout: 12Vdc, 900mA
Safety Timer: 150 hours
Battery: 12 Volt DC
Recharge Time: Approximately 100+ hours to fully recharge a 27M battery in a "dead battery condition". Approximately 75 hours to recharge a 24M battery. Industrial standards define a "dead battery condition" as 9 Volts or less
Weight: 12 lbs.

Warranty:
3 years manufacturer's warranty
Material
Other
Type
Automatic
Application
Plumbing
Voltage
115V
12VDC
Series
441
Product Type
Sump Pumps
Max Shut-Off Head
20-30 ft
Max Flow @ 5' of Head
10-20 GPM
Brand
Liberty Pumps
12V Battery Back-Up Sump Pump System w/ Alarm