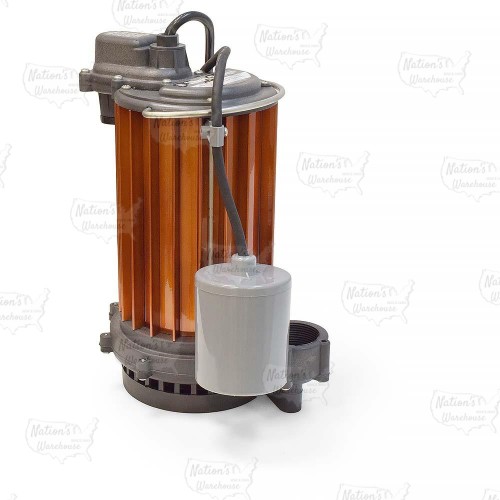 The 453 from Liberty Pumps is an Automatic Sump Pump w/ Wide Angle Float Switch, 1/2HP, 10' cord, 115V. This sump pump has two cords mounted to it. One connects to the float switch and the other connects to the sump pump's motor. The switch cord has a piggy-back plug, enabling the sump pump's motor cord to plug into it. This design is intended to allow manual use as well as automatic. The Liberty Pump 453 automatic submersible sump pump has 1-1/2"NPT discharge and can handle solids up to 3/8". It also has a max lift of 34".
This submersible sump pump is equipped with a motor design that can reduce electrical usage by 40%. The Liberty Pump 450 manual submersible sump pump should not be run dry in order to prevent excessive seal wear and overheating. This sump pump requires a minimum sump diameter of 14".

Features:
Vortex style impeller permits passage of solids without clogging. Made of high temp engineered thermoplastic
Polypropylene and powder coated aluminum construction
Stainless steel rotor shaft
All fasteners - non-corrosive stainless steel
Oil-filled, hermetically sealed motors with thermal overload protection
Permanently lubricated upper and lower bearings
Quick-disconnect 10' standard power cord allows replacement of cord in seconds without breaking seals to motor
Removable base allows suction down to 1/8"

Technical Specifications:
Horsepower: 1/2 HP
Cord length: 10'
Discharge: 1-1/2"
Solids Handling: up to 3/8"
Voltage: 115V
Amps: 7.5
RPM: 3450
Hertz: 60 Hz
Maximum fluid temperature: 140°F
Maximum lift: 34'
Height: 12.5"
Width: 9.6"
Weight: 12.5 lbs.
Minimum Sump Diameter: 14"

Warranty:
3 years manufacturer's warranty
Material
Aluminum
Features
Wide Angle Float Switch
Type
Automatic
Application
Plumbing
Voltage
115V
Horse Power
1/2 HP
Series
450
Product Type
Sump Pumps
Cord
10'
Max Shut-Off Head
30-40 ft
Max Flow @ 5' of Head
40-50 GPM
Brand
Liberty Pumps
Automatic Sump Pump w/ Wide Angle Float Switch, 1/2HP, 10' cord, 115V