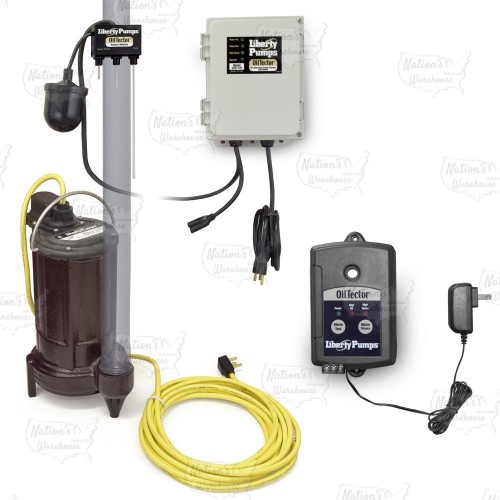 The ELV280 from Liberty Pumps is an Automatic Elevator Sump Pump System w/ OilTector Control, 1/2HP, 115V. The Liberty ELV280 elevator sump pump can handle solids up to 3/4", has a 1-1/2" discharge and a shut-off head of 37'. It can also reach a maximum flow of 64 GPM at 5' of dynamic head. The ELV series features the unique OilTector control, a mechanical float switch and a remote alarm. This elevator sump pump is ideal for elevators, garages, transformer vaults, manufacturing facilities and areas where the discharge of oil/hydrocarbons into the environment is prohibited.
This Liberty sump pump is equipped with an OilTector control system, which is designed and approved for safe operation of pumping, alarming and monitoring of elevator sump pits, transformer vaults and other applications where oil and water must be detected. The OilTector system will activate the Liberty Pump ELV 280 elevator sump pump to remove water from elevator pits in accordance with ASME17.1. The elevator sump pump will provide pumping of only water - even if an oil condition is detected. The OilTector cycles the Liberty sump pump only in the water range. Oil and other harmful substances are not discharged into the environment. An alarm is activated in the event of a high water condition or high oil condition. The Liberty ELV 280HV elevator Sump Pump comes with oil resistant power cords and pump components.

Features:
Automatic: Yes with Control
Heavy-duty 1/2 HP cast iron sump pump
3/4" Solids handling size
Oil resistant SJEOOW cord (25' standard length)
Easy, clamp mounted pre-set level sensor holder
No field adjustments required. OilTector will turn pumps on and off, sound the high water alarm and high oil alarm with one easy installation
Control panel with separate pump and control circuits - Nema 1 enclosure
Height 8.75" x Width 6.5" x Depth 5"
Plug-in ready pump cord and power to panel cord for quick and easy installation
Remote alarm with additional auxiliary (24 VDC) contacts for connection to building automation system or SCADA system
Audio/visual warning
120 volt primary and 9 volt back-up powered
Power on, Pump Run, High water and High oil lights
ASME17.1 Compliant

Technical Specifications:
Horsepower: 1/2 HP
Voltage: 115 V
Phase: 1
Full load Amps: 8.5
Locked Rotor Amps: 23
Thermal overload temp: 248F
Stator winding class: B
Cord: 25'
Discharge: 1-1/2"

Warranty:
3 years manufacturer's warranty
Material
Cast Iron
Features
Wide Angle Float Switch
Type
Automatic
Application
Plumbing
Voltage
115V
Horse Power
1/2 HP
Series
ELV
Product Type
Sump Pumps
Cord
25'
Max Shut-Off Head
30-40 ft
Max Flow @ 5' of Head
60-70 GPM
Brand
Liberty Pumps
Automatic Elevator Sump Pump System w/ OilTector Control, 1/2HP, 115V