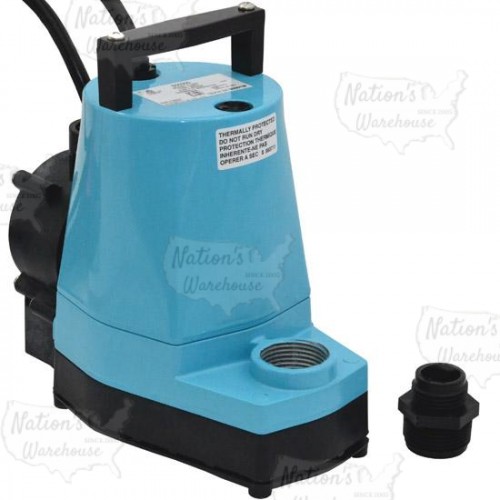 The 505300 from Little Giant is an Automatic Submersible Utility/Sump Pump w/ Piggyback Diaphragm Switch, 1/6HP, 10' cord, 115V. Little Giant 5-ASP model 505300 is capable of pumping water down to 1/8" in "manual" operating mode, while in "automatic" mode, a diaphragm pressure switch works with "on" level at 6" to 9" and "off" levels at 1" to 4" water level.
Little Giant 5-ASP models are capable of handling up to 1200 Gallons per hour at 1" ft of head pressure drop and feature a 1" FNPT discharge with an optional 3/4" garden hose adapter (included), as well as a screened inlet for easy cleaning and maintenance of the pump. 5-ASP series utility pumps have an epoxy coated cast aluminum housing.
Head (ft)
Flow (GPH)
Head (m)
Flow (LPH)
Applications:
Residential
Commercial
Industrial
De-watering
Fluid transfer
Features:
1/6 HP shaded pole motor with overload protection
Designed for continuous duty
Manual Mode: Pumps down to water level of 1/8"
Automatic Mode: "On" level at 6" to 9" and "Off" level at 1" to 4"
Includes a 3/4" garden hose adapter
Removable inlet screen for easy cleaning
Epoxy coated cast aluminum housing
Viton shaft seal
Technical Specifications:
Model: 5-ASP
HorsePower: 1/6 HP
Max Flow: 1200 GPH @ 1' of Head
Cord Length: 10ft
Switch: Automatic, Piggyback Diaphragm type
Shut Off @ 26.3ft of head
Voltage: 115V
Hertz: 60 Hz
Amps: 5A
Watts: 380W
Weight: 9 lbs
Dimensions (H x W x L): 7.75" x 4.31" x 7.7"
Certification: UL/CSA
Warranty:
1 year manufacturer's warranty.
Material
Aluminum
Features
Piggyback Diaphragm Sw.
Type
Automatic
Application
Plumbing
Voltage
115V
Horse Power
1/6 HP
Series
5
Product Type
Sump Pumps
Utility Pumps
Cord
10'
Max Shut-Off Head
20-30 ft
Max Flow @ 5' of Head
10-20 GPM
20-30 GPM
Brand
Little Giant
Automatic Submersible Utility/Sump Pump w/ Piggyback Diaphragm Switch, 10' cord, 1/6HP, 115V