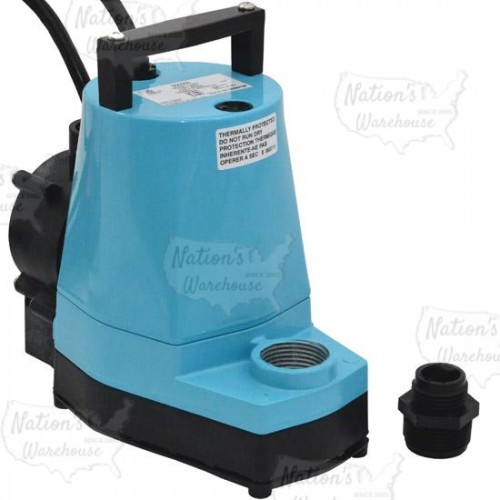 The 505350 from Little Giant is an Automatic Low-Level Submersible Utility/Sump Pump w/ Piggyback Diaphragm Switch, 18' cord, 1/6HP, 115V. Little Giant 5-ASP-LL model 505350 is capable of pumping water down to 1/8" in "manual" operating mode, while in "automatic" mode, a diaphragm pressure switch works with "on" levels at 2" to 3" and "off" levels at 0.5" to 1.5"
Little Giant 5-ASP-LL models are capable of handling up to 1200 Gallons per hour at 1" ft of head pressure drop and feature a 1" FNPT discharge with an optional 3/4" garden hose adapter (included), as well as a screened inlet for easy cleaning and maintenance of the pump. 5-ASP-LL series utility pumps have an epoxy coated cast aluminum housing and can be used for a wide variety of applications, including residential, commercial, industrial and other de-watering and fluid transfer applications.
Head (ft)
Flow (GPH)
Head (m)
Flow (LPH)
Features:
1/6 HP shaded pole motor with overload protection
Designed for continuous duty
Manual Mode: Pumps down to 1/8" water level
Automatic Mode: "On" level at 2" to 3" and "Off" level at 0.5" to 1.5"
Garden hose adapter for discharge is included
Removable inlet screen for easy cleaning
Epoxy coated cast aluminum housing
Viton shaft seal
Technical Specifications:
Model: 5-ASP-LL
HorsePower: 1/6 HP
Max. Flow: 1200 GPH @ 1' of Head
Cord Length: 18ft
Switch: Automatic, Diaphragm type
Shut Off @ 26.3ft of head
Voltage: 115V
Hertz: 60 Hz
Amps: 5A
Watts: 380W
Weight: 10.25 lbs
Dimensions (H x W x L): 7.75" x 4.31" x 7.7"
Certification: UL/CSA
Warranty:
1 year manufacturer's warranty.
Material
Aluminum
Features
Piggyback Diaphragm Sw.
Type
Automatic
Application
Plumbing
Voltage
115V
Horse Power
1/6 HP
Series
5
Product Type
Sump Pumps
Utility Pumps
Cord
18'
Max Shut-Off Head
20-30 ft
Max Flow @ 5' of Head
10-20 GPM
20-30 GPM
Brand
Little Giant
Automatic Low-Level Submersible Utility/Sump Pump w/ Piggyback Diaphragm Switch, 18' cord, 1/6HP, 115V