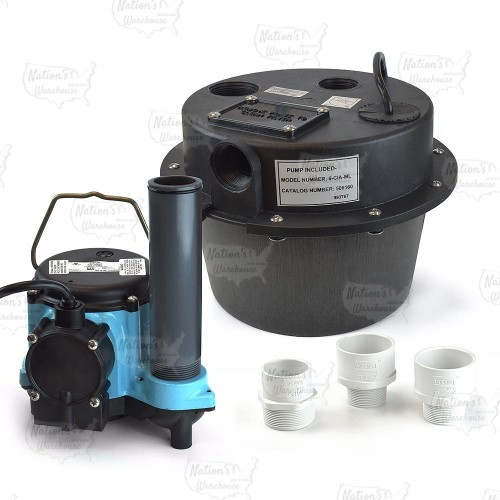 The 506065 from Little Giant is a Drainosaur Compact Water Removal System w/ 9' cord, 3.5 gallon capacity, 1/3HP, 115V. Tank has 1-1/2" FNPT side intake port, 1-1/2" FNPT top discharge port, and a 2" FNPT top vent port. Includes an easy-to-remove filter trap. When in automatic mode (default), the 6-CIA-ML pump has "On" level of 4"-7" and "Off" level of 1"-3".
Little Giant WRSC-6 Drainosaur Water Removal System removes water from laundry trays, lavatory sinks, wet bar sinks, dehumidifiers, air conditioners (condensate), water softeners, etc. WRSC-6 model installs above the floor level, so there's no need to dig a sump.
Head (ft)
Flow (GPH)
Head (m)
Flow (LPH)
Features:
Pre-assembled for easy installation
Two tank size options available (WRSC-6: compact
WRS-6: standard)
Cylindrical heavy-duty polypropylene basin tank, IAPMO approved
Easy to remove filter trap
UL / CSA listed
Technical Specifications:
Model: WRSC-6
Pump Horse Power: 1/3HP
Max. Flow: Up to 45GPM at 5ft of head pressure drop
Cord Length: 8ft
Shut Off @ 18ft of head
Voltage: 115V
Hertz: 60Hz
Amps: 9A
Watts: 720W
Weight: 25 lbs
Dimensions: 10" High x 14.5" Wide
Certification: UL/CSA
Warranty:
2 years from the date of installation.
Material
Cast Iron
Features
Diaphragm Switch
Type
Automatic
Application
Plumbing
Voltage
115V
Horse Power
1/3 HP
Series
6
Drainosaur
Product Type
Sump Pumps
Water Removal Systems
Cord
9'
Max Shut-Off Head
10-20 ft
Max Flow @ 5' of Head
40-50 GPM
Brand
Little Giant
Drainosaur Compact Water Removal System w/ 9' cord, 3.5 gal., 1/3HP, 115V