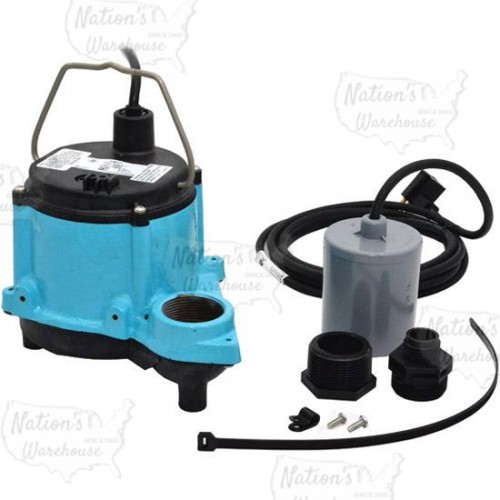 The 506171 from Little Giant is an Automatic Sump Pump w/ Wide Angle Float Switch, 1/3HP, 10' cord, 115V.
Little Giant 506171 model features a 1-1/2" FNPT discharge with a maximum head capacity of 18ft, a 1-1/2" FNPT x 1-1/4" FNPT reducing busing (included) and a garden hose adapter (included), allowing to connect piping other than 1-1/2" in size.
Little Giant 6-CIA-RFS model sump pumps have a cast iron housing, polypropylene base, polycarbonate cover, and built-in thermal overload protection.
Little Giant 6-CIA-RFS sump pump is best used in a sump basin, where on/off operation of the sump pump can be controlled by a remotely mounted float switch.
Head (ft)
Flow (GPH)
Head (m)
Flow (LPH)
Applications:
De-watering
Liquid transfer
Features:
1/3 HP shaded pole motor with overload protection
Designed for continuous duty
Epoxy coated cast iron housing
Automatic or Manual operation
Discharge connection is 1-1/2" FNPT. Also, 1-1/4" FNPT adapter and a 3/4" garden hose adapter are included
Carbon/ceramic shaft seal
Upper and lower sintered sleeve bearings
UL / CSA listed
Technical Specifications:
Model: 6-CIA-RFS
HorsePower: 1/3 HP
Max. Flow: 46 GPM @ 5ft of Head pressure drop
Cord Length: 10ft
Shut Off @ 18ft of head
Voltage: 115V
Hertz: 50/60 Hz
Amps: 9A
Watts: 720W
Weight: 18.0 lbs
Dimensions: 7.3" x 7.3" x 9.5"
Certification: UL/CSA
Warranty:
2 years from the date of installation.
Material
Cast Iron
Features
Piggyback Wide Angle Sw.
Type
Automatic
Application
Plumbing
Voltage
115V
Horse Power
1/3 HP
Series
6
Product Type
Sump Pumps
Cord
10'
Max Shut-Off Head
10-20 ft
Max Flow @ 5' of Head
40-50 GPM
Brand
Little Giant
Automatic Sump Pump w/ Wide Angle Float Switch, 10' cord, 1/3HP, 115V