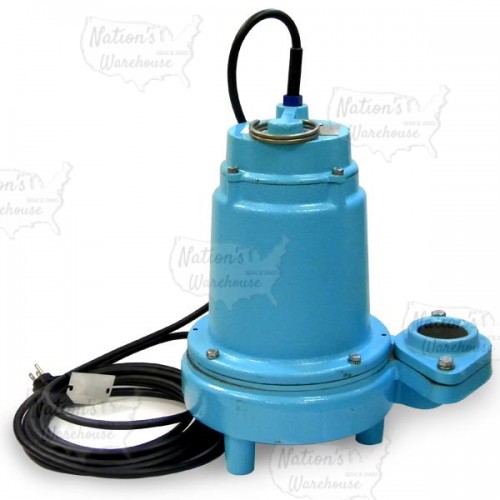 The 514220 from Little Giant is a Manual Effluent Pump, 1/2HP, 20' cord, 115V. Recommended for use in sumps, basins or lift stations and is suitable for pumping sewage, effluent, wastewater and other non-explosive, non-corrosive liquids. For use in residential, commercial, industrial and agricultural applications with light to medium transfer demands.
The 14EH Series dewatering and Effluent pump features a vertical 2" FNPT discharge with head capacity of 50' and ABS base. 14EH-CIM Eliminator Submersible Effluent Pump was specifically engineered to handle liquids and up to 3/4" diameter soft solid waste materials and deals with tough effluent and demanding tasks in wastewater and effluent waste transfer with high efficiency and long term dependability. Little Giant 14EH-CIM has an epoxy coated heavy-duty cast iron housing, volute and impeller, to ensure rust resistance, with all exposed component parts made of corrosion resistant materials to provide a longer service life.
Little Giant 14EH-CIM boasts non-clog Impeller with pressure relief vanes, maximum 140F operating temperature, mechanical seals (stainless steel spring, nitrile parts, carbon and ceramic shaft seal) and 300 Series stainless steel hardware. Oil filled motor housing of 14EH-CIM provides lifetime lubrication and rapid heat dissipation. Little Giant's powerful 1/2 HP, single phase induction 3450 RPM motor with automatic reset thermal overload protection delivers 60 GPM of wastewater at 20' total dynamic head. This newest 14EH-CIM Eliminator Submersible High Head Effluent Pump is an ideal solution for effluent and wastewater removal and handling where such materials must be moved upward from a collection area to sewer or septic lines or drainage areas.

Features:
High head, 115 Volts model;
Handles liquids and solid waste materials up to 3/4 diameter;
1/2 HP PSC motor with overload protection;
Port Size: 2" FNPT discharge w/ 3/4" Solids Handling;
Cast iron pump housings with protective epoxy coating for corrosion and rust resistance;
Oil-filled motor housings for lifetime lubrication and rapid heat dissipation;
Stainless steel screws, bolts and lifting ring;
Upper and lower ball bearings;
Mechanical seal (stainless steel spring, nitrite parts, carbon and ceramic faces) for long life and reliability;
Secondary Exclusion Seal to help protect mechanical seal;
High Speed (3450 RPM) 1/2 HP, ball bearing motor and thermal overload protection for high head Operation, permanent split capacitor design;
Capacitor and power cord connections isolated from oil filled motor housing for ease of field maintenance;
Dynamically balanced two-vane non-clogging impeller with pump-out vanes to enhance pumping performance and efficiency;
Pressure Switch Setting: Approx. 74 Lbs;
UL / CSA listed;

Technical Specifications:
Motor: 1/2 HP Permanent, Split Capacitor;
Maximum flow rate: 60 GPM @ 20';
Maximum Head: 50';
Solids handling (dia.): 3/4";
Max Liquid Temp: 140F;
Discharge: 2" FNPT;
Cord Length: 20';
Shut Off: 50';
Voltage: 115 V;
Hertz: 60 Hz;
Amps: 12.5 A;
Watts: 1450 W;
Weight: 82 lbs.;
Height: 16.13";
Width: 9.9";
Length: 14.1";

Warranty:
2 years manufacturers warranty from the date of purchase.
Material
Cast Iron
Type
Manual
Application
Plumbing
Voltage
115V
Horse Power
1/2 HP
Series
14EH
Product Type
Effluent Pumps
Cord
20'
Max Shut-Off Head
40-50 ft
50-60 ft
Max Flow @ 5' of Head
70-80 GPM
80-90 GPM
Brand
Little Giant
High-Head Manual Effluent Pump, 1/2HP, 20' cord, 115V