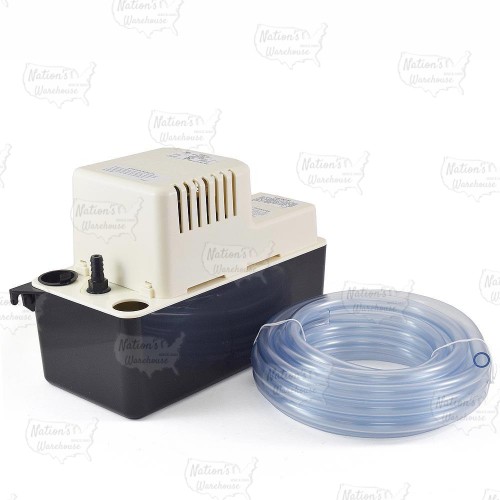 The 554411 from Little Giant is a Automatic Condensate Pump w/ Tubing and 6' cord, 1/50HP, 115V. It includes 20ft of 3/8" ID tubing.
The Little Giant VCMA series features a vertical-type pumps with stainless steel motor shaft, 1/2 gallon ABS tank and removable 3/8" O.D. Barbed check valve.
The Little Giant VCMA-15ULT Condensate Pump is suitable for high-efficiency gas furnace condensate.
Head (ft)
Flow (GPH)
Head (m)
Flow (LPH)
Features:
Includes 20' of 3/8" ID tubing;
1/50 HP high performance thermally protected motor;
Stainless steel motor shaft;
ABS tank, motor cover, and volute;
1/2 gallon leakproof, rustproof, ABS tank with mounting tabs;
Removable 3/8" barbed check valve;
6' power cord;
3 inlet drain holes;
UL / CSA listed;
Technical Specifications:
Model Number: VCMA-15ULT;
Horsepower: 1/50HP;
Tank: Medium;
Flow: 65 GPH @ 1' of Head;
Cord Length: 6';
Shut Off: 15';
Voltage: 115V;
Intermittent Liquid Temp.: up to 120F;
Hertz: 60Hz;
Amps: 1A;
Watts: 60W;
Weight: 4.6 lbs;
Height: 7";
Width: 5";
Length: 11";
Warranty:
2 years from the date of installation.
Material
ABS
Features
ABS Tank
Tubing
Type
Automatic
Application
HVAC
Voltage
115V
Horse Power
1/50 HP
Series
VCMA
Product Type
Condensate Pumps
Cord
6'
Max Shut-Off Head
10-20 ft
Max Flow @ 5' of Head
0-10 GPM
Brand
Little Giant
Little Giant Automatic Condensate Removal Pump w/ Tubing, 6' Cord, 1/50HP, 115V