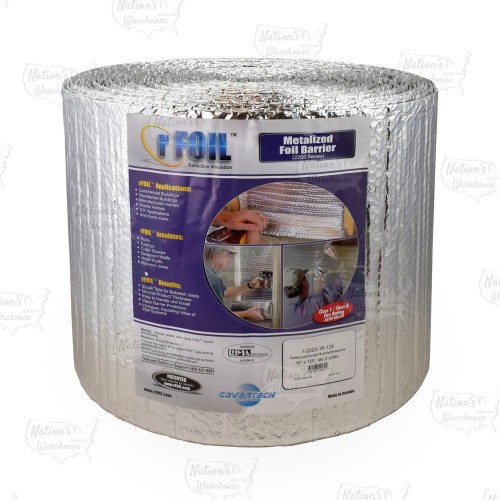 16" wide x 125ft long (166 sqft total) roll or reflective bubble insulation by rFoil. Designed for installation between the 16" OC (On Center) joists, this insulation offers excellent R-value, provides a water vapor barrier and is overall a much healthier alternative to fiberglass insulation. It is Class A/1 fire-rated and is suitable for projects with or without PEX radiant heat (where PEX tubing is stapled to the bottom of the subfloor/plywood).
Insulation has 1" side tabs which make stapling easier. For optimal performance, use with rFoil 2" wide metalized tape #15012 or similar.



Features:
For 16" OC (On Center) joists;
Double-bubble design;
3-in-1 insulation, radiant barrier and vapor barrier;
1" side tabs make stapling easier;
Unaffected by moisture & humidity;
Class 1/Class A fire rating;
Suitable for ceilings (between joists), walls & crawl spaces;
No fiberglass particles in the air, no mess.
Technical Specifications:
Coverage: 166 sqft (16" wide x 125ft long);
R-Value (per ASTM C1224): R-13.0 (Between-joists, staple-up application); R-15.2 (Heat flow down); R-8.5 (Horizontal heat flow);
Operating temperature range: -50°F - 180°F;
Nominal thickness: 5/16";
Weight: 1.25 oz/sqft;
Water vapor permeability: <0.02 perms;
Reflectivity: 0.96;
Emissivity: 0.04.
Product Type
Between-Joist Insulation
Insulation Width
16"
Insulation Size
166 sqft
Brand
rFoil
166 sqft, 16" x 125ft rFoil Between-Joist Reflective Radiant Heat Insulation