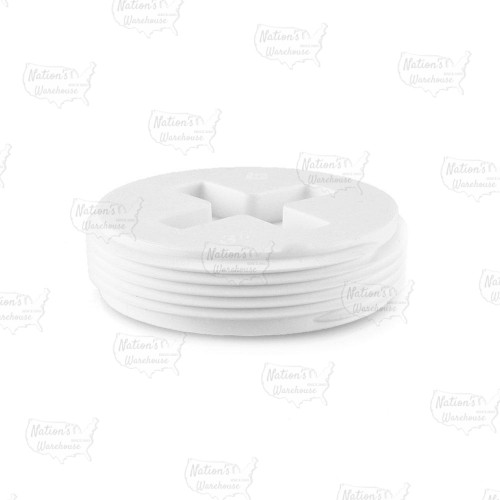 The 878-30 from Sioux Chief is a 3" FIP Cleanout Flush Plug. It's designed to close the FIP outlet of a 3" cleanout fitting when it is not in use. Comes with molded-in brass insert which allows to connect a threaded rod and install a cleanout drywall cover (cap) when the finished walls are in place.

Features:
Reusable - easy installation and removal;
Plug with threaded brass insert for optional installation of cleanout covers;
Could be combined with FPT adapters to make customs cleanouts;
Acid resistant and chemically inert;
More durable than traditional ABS or PVC plugs;
Will not seize or weld in ABS or PVC fittings.

Technical Specifications:
Size: for 3" PVC/ABS/Cast Iron FIP cleanouts;
Height: 1";
Color: White;
Connection: MPT (MIP) Threaded;
Material: Glass-filled Polypropylene.
Size
3"
Type
Test Tee Plug
Application
Plumbing
Product Type
Test Plugs
Brand
Sioux Chief
3" FIP Cleanout Flush Plug