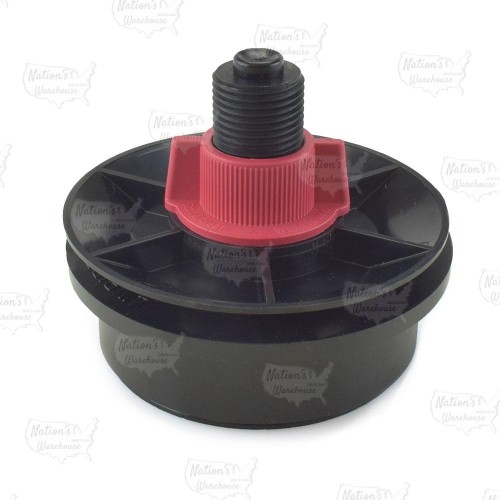 The 882-4 from Sioux Chief is a 4" TestTitan, Pipe Mechanical Test Plug. It's designed for DWV pressure testing in PVC, ABS and Cast Iron drainage and vent systems. Suitable for installation inside 4" Schedule 40 (only) PVC pipe, ABS pipe and Cast Iron no-hub pipe - no special adapter or adhesive needed. Not for use in FIP cleanouts or inside hub (fitting) connections. Drill or cut off tip to make a hole and connect standard garden hose for water pressure testing where needed.
Warning: as with all pressure testing equipment, follow all applicable codes/procedures, manufacturer reccommendations and wear safety gear when performing DWV drain tests. Stay clear of the test tees, cleanouts and pipe ends while system is under pressure.

Features:
Reusable - easy installation and removal;
For inside pipe (barrel) use only;
Use a 9/16" drill bit or cut off the tip to access the hollow stem;
Hollow, 3/4" male hose thread stem allows to fill/drain through the plug. Connects to a standard garden hose;
Consists of polypro wingnut, ABS disc, ABS stem and soft PVC gasket;
Non-slip shoulder prevents spinning;
1" wide gasket vs 0.5" in competition;
Made from 100% corrosion proof material.

Technical Specifications:
Size: for 4" PVC (Sch. 40), Cast Iron (CI) or ABS pipe;
Stem, base and disc material: ABS;
Nut material: PolyPro;
Gasket material: soft PVC;
Safe working loads (for pipe): 10 PSI;
Overall Diameter: 4.4";
Overall Depth: 3.7".
Size
4"
Type
Pipe Test Plug
Application
Plumbing
Product Type
Test Plugs
Brand
Sioux Chief
4" TestTitan, Pipe Mechanical Test Plug