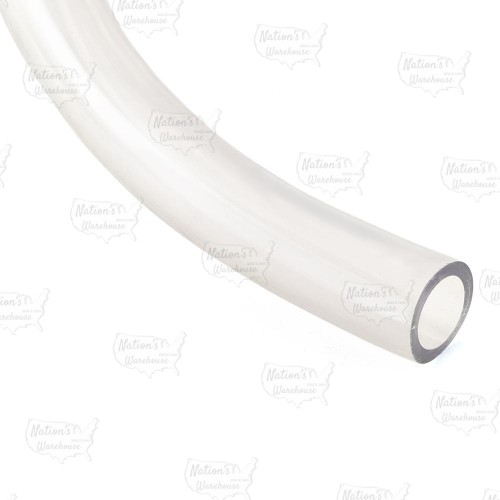 The 900-01153C00101 from Sioux Chief is a 5/16" ID x 7/16" OD Clear Vinyl (PVC) Tubing, 10 ft. Coil, FDA Approved.
Note: Sioux Chief has recently acquired Watts tubing and select other product groups. Products may come in Watts packaging while Sioux Chief completes the transfer. This product replaces Watts Part# 42143510

Features:
FDA Listed, Lead-Free;
Can be used in beverage dispensing, water, drainage lines, aquarium, laboratory, insulation and many other applications;
Smooth and inner surface maximizes flow and reduces accumulation of sediments;
Resistant to many acids, alkalis, solvents, gases and other chemicals (see Literature for complete list);
Comes in a cardboard box;
Not for use in ice maker applications;
Made in the USA.

Technical Specifications:
Tube OD: 7/16";
Tube ID: 5/16";
Wall Thickness: 1/16";
Coil length: 10 feet;
Working Pressure: 50 PSI @ 70°F;
Max Operating temperature: 175°F;
Brittle point: -40°F;
Material: PolyVinyl Chloride (PVC), Lead-Free;
Color: Clear;
Shape: Round;
Hardness: Durometer 83+/-3 Shore A;
Specifications: FDA Approved, NSF/ANSI 61 and 51 Compliant.
Length
10 ft
Fitting Type
Vinyl Hose
Product Type
Vinyl Hose
Color
Clear
Hoze OD Size
7/16"
Packaging
Cardboard box
Wall Thickness
1/16"
Brand
Sioux Chief
Hose ID Size
5/16"
5/16" ID x 7/16" OD Vinyl Tubing, 10 ft. Coil, FDA Approved