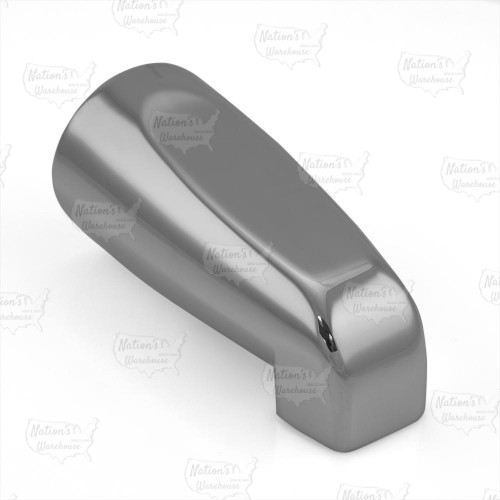 The 972-32 from Sioux Chief is a 5-1/4" long, SmartSpout 1/2" CTS Slip-on Tub Spout, Chrome.

Features:
Tenz-alloy used by Sioux Chief offers durability second only to solid brass;
High quality finish inherent to all Sioux Chief products;
Slip-on design is easiest to install with no fractional measurement needed and offers generous pipe length tolerance;
Unique design securely grips the pipe and pulls the tub spout to the wall to ensure leak-free performance;
Includes a Dry-Seal pipe collar to prevent leaks behind the wall - no caulk needed;
Use Phillips #2 Screwdriver to tighten the screw.

Technical Specifications:
Tub Spout Type: regular (no shower diverter);
Connection: 1/2" CTS Slip-On (connects to a regular 1/2" copper pipe protruding ~2.75" from the wall);
Length: 5-1/4";
Material: Tenz-alloy;
Finish: Chrome Plated.
Material
Tenz-alloy
Length
5-1/4"
Connection Type
Slip On
Product Type
Tub Spouts
Tub Spouts (No Diverter)
Brand
Sioux Chief
Finish
Chrome Plated
Connection In
Base
Nose
5-1/4" long, SmartSpout Slip-On Tub Spout, Chrome