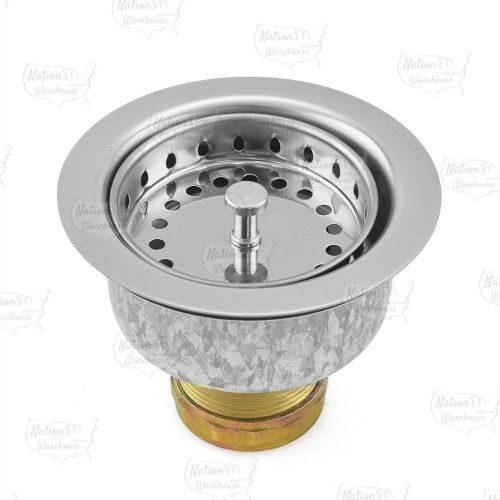 The 245-16450C04 from Sioux Chief is a Stainless Steel Heavy-Duty Kitchen Sink Deep Double Cup Specification Drain Strainer w/ Spring Clip Basket. It's a premium quality duo cup, deep sink drain strainer with heavy-gauge body, polished rim surface, locking basket and oversized slipnut. Also suitable for cast iron and composite sinks. Install using plumber's putty or Sioux Chief No-Putty gaskets.

Features:
Specification sink strainer fits all standard stainless steel kitchen sinks as well as cast iron and composite sinks;
Premium, heavy-gauge stainless steel body with polished finish;
Oversized tubular slipnut makes installation easier;
Deep double cup can hold a larger amount of debris and food;
Includes spring clip type locking basket strainer with rubber stopper.

Technical Specifications:
Fits: 3-1/2" openings;
Actual drain top diameter: 4-1/2";
Overall height: 3.5";
Outlet connection: 1-1/2" tubular flanged tailpiece (brass or poly, any gauge);
Drain material: stainless steel;
Basket strainer: stainless steel, spring-clip type (locking) with neoprene rubber stopper;
Package includes: duo cup drain, strainer basket, zinc locknut, rubber gasket, zinc tubular slipnut and flanged tailpiece tubular washer.
Material
Stainless Steel
Type
Deep
Application
Plumbing
Product Type
Kitchen Sink Drains
Connection
1-1/2"
Brand
Sioux Chief
St. Steel Heavy-Duty Kitchen Sink Deep Double Cup Specification Drain Strainer w/ Spring Clip Basket