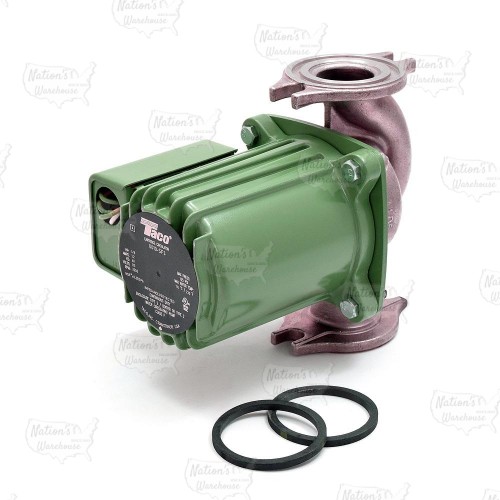 The 0010-SF3 from Taco is a Stainless Steel Circulator Pump, 1/8HP, 115V. It's designed for a wide range of large residential and light commercial applications with medium head/higher flow requirements. Common uses include hydronic heating, radiant floor heating, indirect water heaters, chilled water cooling, and domestic hot water systems. Stainless Steel Taco 0010-SF3 Circulator Pump is also perfect for all open-loop, fresh water systems. Features a unique replaceable cartridge which allows for easy replacement, instead of replacing the entire circulator. Taco 0010-SF3 Circulator pump is compact, direct-drive, features low power consumption and is ideal or high-efficiency jobs.
Taco 0010-SF3 replaces: Grundfos UP15-35SF.

Electrical Data:
Voltage: 115V;
Hertz: 60Hz;
Phase: 1;
Amps: 1.17A;
HP: 1/8HP;

Technical Specifications:
Flow Range: 0 – 32 GPM;
Head Range: 0 – 10 Feet;
Minimum Fluid Temperature: 40˚F (4˚C);
Maximum Fluid Temperature: 230°F (110˚C);
Maximum Working Pressure: 125 psi;
Connection Sizes: 3/4", 1", 1-1/4", 1-1/2" Flanged.

Warranty:
3 year manufacturer's warranty
Material
Stainless Steel
Type
1-Speed Pumps
Connections
Flanged
Application
Heating
Plumbing
Max. Head
0-10 ft
Max. Flow
30-40 GPM
Voltage
115V
Horse Power
1/8 HP
Series
0010
Product Type
Circulator Pumps
Brand
Taco
Taco 0010-SF3 Stainless Steel Circulator Pump, 1/8 HP, 115V