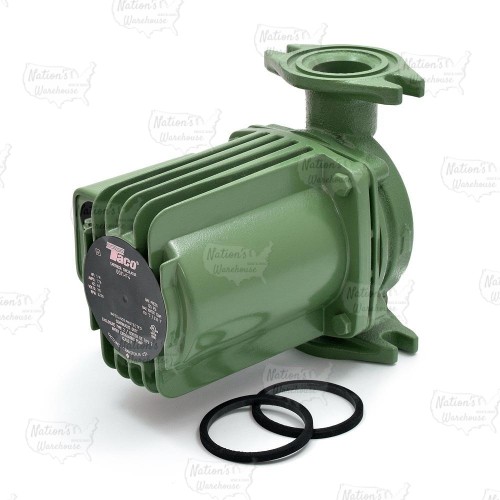 The 0011-F4 from Taco is a Cast Iron Circulator Pump, 1/8HP, 115V. It's designed for high head and medium flow applications, that are common for large residential and light commercial applications, such as closed loop hydronic heating. The Taco 0011-F4 Circulator Pump is perfect for boilers with high pressure drop, as well as fan coil units, heat exchangers, large radiant heat and heat recovery/geothermal systems. Universal flange to flange dimensions and flange orientation of the Taco 0011-F4 model allows it to serve as a replacement for many other models. This circulator is compact, has low power consumption and ideal for high-efficiency jobs.
Taco 0011-F4 replaces:
Grundfos UP26-96F, UPS26-99FC spd 3 and
Wilo Star 30

Applications:
High Pressure Drop Boilers
Medium/Large Hydronic, Geothermal and Radiant Heating projects
Wood Boilers / Furnaces
Hydro-Air Fan Coils
And many others

Performance Data:
Flow Range: 0 – 31 GPM
Head Range: 0 – 31 Feet
Minimum Fluid Temperature: 40˚F (4˚C)
Maximum Fluid Temperature: 230°F (110˚C)
Maximum Working Pressure: 125 psi
Connection Sizes: 3/4", 1", 1-1/4", 1-1/2" Flanged

Electrical Data:
Voltage: 115V;
Hertz: 60Hz;
Phase: 1;
Amps: 1.76A;
HP: 1/8HP;

Warranty:
3 year manufacturer's warranty.
Material
Cast Iron
Type
1-Speed Pumps
Connections
Flanged
Application
Heating
Max. Head
30-40 ft
Max. Flow
30-40 GPM
Voltage
115V
Horse Power
1/8 HP
Series
0011
Product Type
Circulator Pumps
Brand
Taco
Taco 0011-F4 Circulator Pump, 1/8 HP, 115V