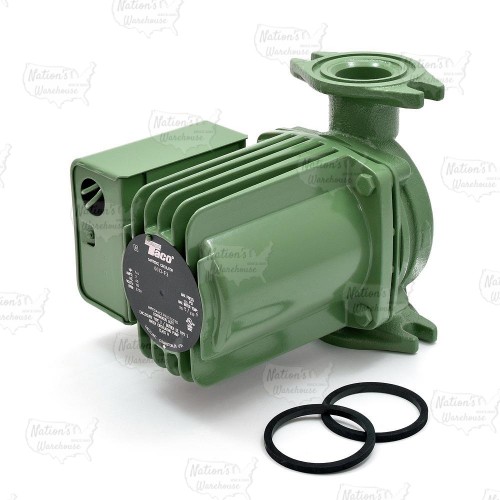 The 0013-F3 from Taco is a Cast Iron Circulator Pump, 1/6HP, 115V. It's designed for use in high head and high flow applications in larger residential and light commercial systems. The Taco 0013-F3 circulator is perfect for boilers with high pressure drop, fan coil units, heat exchangers, large radiant heat systems and geothermal systems. Universal flange to flange dimensions and flange orientation allow allows the Taco 0013-F3 circulator to replace many other models. This model is compact, features low power consumption and ideal for high-efficiency jobs.
Taco 0013-F3 replaces: Grundfos UP26-99F, UP26-116F.

Applications:
High Pressure Drop Boilers;
Medium/Large Hydronic, Geothermal and Radiant Heating projects;
Wood Boilers / Furnaces;
Hydro-Air Fan Coils;
And many others

Electrical Data:
Voltage: 115V;
Hertz: 60Hz;
Phase: 1;
Amps: 2.0A;
HP: 1/6HP.

Technical Specifications:
Flow Range: 0 – 34 GPM;
Head Range: 0 – 33 Feet;
Minimum Fluid Temperature: 40˚F (4˚C);
Maximum Fluid Temperature: 230°F (110˚C);
Maximum Working Pressure: 125 psi;
Connection Sizes: 3/4", 1", 1-1/4", 1-1/2" Flanged.

Warranty:
3 year manufacturer's warranty.
Material
Cast Iron
Type
1-Speed Pumps
Connections
Flanged
Application
Heating
Max. Head
30-40 ft
Max. Flow
30-40 GPM
Voltage
115V
Horse Power
1/6 HP
Series
0013
Product Type
Circulator Pumps
Brand
Taco
Taco 0013-F3 Circulator Pump, 1/6 HP, 115V