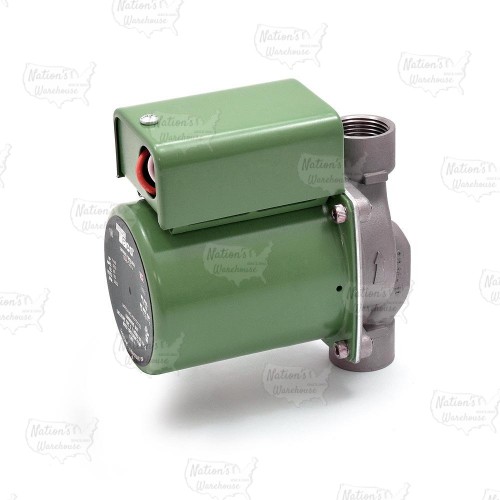 The 006-ST4 from Taco is a Stainless Steel Circulator Pump. 3/4" NPT, 1/40HP, 115V. It's designed for circulating hot or chilled fresh water in open or closed loop applications. Common uses include hydronic heating, chilled water cooling, and domestic hot water systems, hydro-air heating/cooling, heat recovery units, water source heat pumps, drain down open loop solar systems and potable water applications.
Stainless Steel Taco 006-ST4 Circulator Pump features a unique replaceable cartridge which allows for easy service, instead of replacing the entire circulator. Taco 006-ST4 Circulator pump is compact, direct-drive, features low power consumption and is ideal for high-efficiency jobs.
Taco 006-ST4 replaces 006-BT4 model.

Applications:
Domestic Hot Water Recirculation;
Hydronic Heating / Cooling;
Radiant Heating;
Heat Recovery Units,
Solar;
And many others;

Electrical Data:
Voltage: 115V;
Hertz: 60Hz;
Phase: 1;
Amps: 0.52 Amps;
HP: 1/40HP;

Technical Specifications:
Flow Range: 0 – 10 GPM;
Head Range: 0 – 9 Feet;
Minimum Fluid Temperature: 40˚F (4˚C);
Maximum Fluid Temperature: 220°F (104˚C);
Maximum Working Pressure: 125 psi;
Connection Sizes: 3/4 NPT threaded.
Material
Stainless Steel
Type
1-Speed Pumps
Connections
Threaded
Application
Heating
Plumbing
Max. Head
0-10 ft
Max. Flow
10-20 GPM
Voltage
115V
Horse Power
1/40 HP
Series
006
Product Type
Circulator Pumps
Brand
Taco
Taco 006-ST4 Stainless Steel Circulator Pump,3/4' NPT, 1/40 HP, 115V