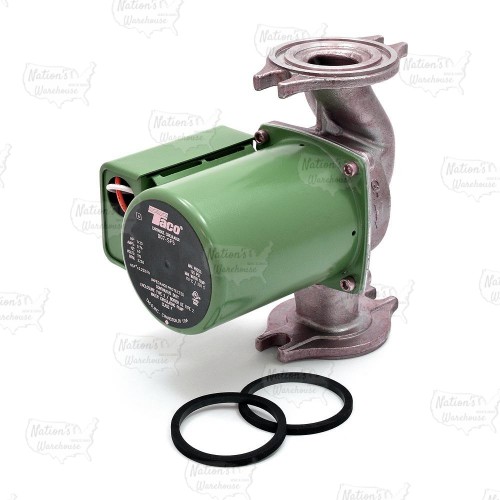 The 007-SF5 from Taco is a Stainless Steel Circulator Pump, 1/25HP, 115V. It's one of the most popular hydronic circulators sold today. Features a field serviceable cartridge design and provides a quiet, efficient operation and unmatched reliability. It has a self-lubricating, maintenance free design and it's flow parameters make it an ideal circulator for a wide range of open and closed loop hydronic heating, radiant heating, solar heating and many other applications. Taco 007-SF5 circulator pump is a cartridge style, wet-rotor, in-line, single stage circulator pump. It is designed for quiet operation in Hydronic heating, Radiant heating, Hydro-Air fan coils, Indirect water heaters, Chilled fresh water, and Domestic Water Recirculation systems.
Taco 007-SF5 model replaces:
Grundfos UP15-29SF;
B&G SSF-12F/LW;
the older Taco 007-BF5 Bronze model.

Applications:
Open or Closed Loop Radiant Heating;
Hydronic Heating / Cooling;
Indirect Water Heaters;
Domestic Water Recirculation;
Solar Systems;
Fan Coils;
And many others;

Electrical Specifications:
Voltage: 115V;
Hertz: 60Hz;
Phase: 1;
Amps: 0.76A;
HP: 1/25HP;

Technical Specifications:
Flow Range: 0 – 23 GPM;
Head Range: 0 – 10 Feet;
Minimum Fluid Temperature: 40˚F (4˚C);
Maximum Fluid Temperature: 230°F (115˚C);
Maximum Working Pressure: 125 psi;
Connection Sizes: 3/4", 1", 1-1/4", 1-1/2" Flanged
Warranty:
3 year manufacturer's warranty.
Material
Stainless Steel
Type
1-Speed Pumps
Connections
Flanged
Application
Heating
Plumbing
Max. Head
10-20 ft
Max. Flow
10-20 GPM
Voltage
115V
Horse Power
1/25 HP
Series
007
Product Type
Circulator Pumps
Brand
Taco
Taco 007-SF5 Stainless Steel Circulator Pump, 1/25 HP, 115V