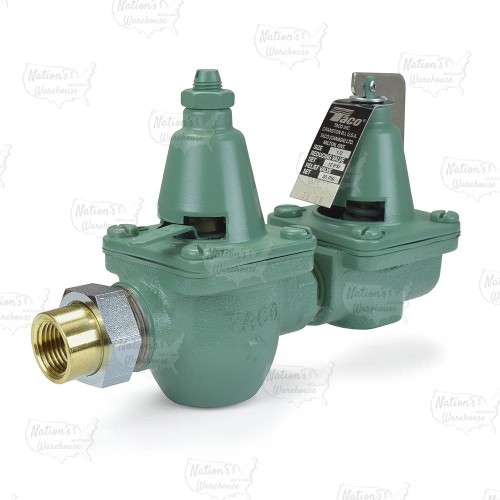 Taco 334-T3 is a combination Boiler Feed Valve and Pressure Relief Valve. Features cast iron body and 1/2" threaded inlets.
This boiler feed valve combination is used to automatically feed water to a system whenever the pressure in the system drops below the pressure setting of the valve. The pressure relief valve is factory set to 30 psi.
Features:
Fast Fill Rate;
Exclusive Fast Fill Lever Lock;
Built-In Check to Prevent Emptying the System if Incoming Pressure Fails;
Adjustable Set Pressure of 10 to 25 psi;
Pressure Setting Adjustment Separated from Fast Fill Lever for Easy, Fast Adjustment.
Specs:
Inlet: 1/2" Threaded (Union);
Outlet: 1/2" Threaded;
Maximum Fluid Temperature: 212 F;
Maximum Supply Side Pressure: 100 psi;
Operating Pressure Range: 10 - 25 psi;
Pressure Relief Valve is Set To: 30 psi;
Factory Setting (System Side): 12 psi;
Materials of Construction: Cast Iron;
Weight: 3.9 lbs;
Dimensions: 7-3/8" wide x 5-1/8" high;
Options
2-Way
Size
1/2"
Connections
FNPT x FNPT Union
Threaded
Application
Heating
Series
334
Product Type
Boiler Fill & Backflow Valve Combo
Brand
Taco
Max Temperature
212F
Adjustable Range
10 - 25 psi
Max Inlet Pressure
100 psi
1/2" Threaded x Union Pressure Reducing/Boiler Fill Valve & Pressure Relief Valve