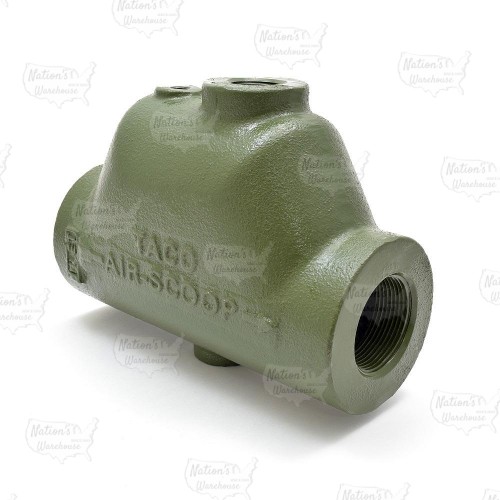 The 433-6 from Taco is a Cast Iron Air Scoop for 1-1/2" NPT. The Air Scoop is designed to slow the water velocity in order to separate air from solution. The unit is manufactured from cast iron and features equal threaded inlets on both sides. Top of the air scoop features a 1/8" NPT outlet (for connection of a regular air vent such as Taco 400-4) and an additional 3/4" FNPT outlet for the expansion tank. Bottom of the air scoop has a 1/2" NPT threaded outlet, which also allows to connect a plain steel diaphragm expansion tank.
Features:
One Piece Cast Iron Construction;
Engineered Baffle to Separate Air from Water;
Never Requires any Servicing.

Technical Specifications:
System Connections: 1-1/2" Female Threaded;
Bottom Tapping (for expansion tank): 1/2" Female Threaded;
Top Tapping #1 (for air vent): 1/8" Female Threaded;
Top Tapping #2 (for expansion tank): 3/4" Female Threaded;
Maximum Operating Pressure: 125 psi;
Maximum Operating Temperature: 300°F;
Media: Water or Water/Glycol Mix;
Recommended Flow Rate: 4 ft/sec;
Maximum Flow Rate: 8 ft/sec;
Dimensions (W x H): 6" x 4";
Cv: 61;
Weight: 7.0 lbs.

Warranty:
1 year manufacturers warranty.
Size
1-1/2"
Connections
Threaded
Application
Heating
Series
430 Air Scoops
Product Type
Air Separators
Brand
Taco
Orientation
Horizontal
Taco (433-5) Cast Iron Air Scoop, 1-1/2" NPT