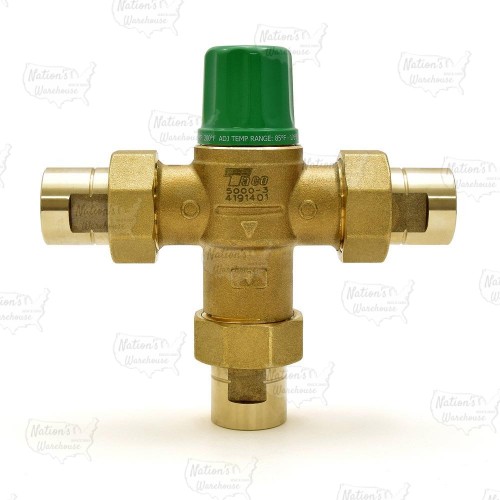 The 5002-T3 from Taco is a 1/2" Union Threaded Mixing Valve (Lead-Free), 85-175F. It's a dual-purpose mixing or diverting valve that delivers fail-safe security and superior performance. The ASSE 1017-approved valve provides shut-off reliability on either a hot or cold water supply failure. Its high flow and low headloss make the Taco 5002-T3 mixing valve ideal for applications such as domestic hot water, radiant heat applications, installations with large variations in flow rate and supply conditions, and installations that require precise control of water temperature. Mixing valve's unique design ensures a stable and controlled mixed water temperature throughout the extended 85-176°F range.

Materials
Body: Forged Brass (≤.25% Lead Brass);
Internal Components: ≤.25% Lead Brass, Noryl GFN2;
Seals: Viton;
Spring: Stainless Steel;
Piston: Polysulfone;
Gaskets: EPDM.

Features:
Lead-Free Compliant (≤.25% Lead);
Ideal for Domestic Water Distribution Points;
Suitable for use in Potable Water;
Delivers Stable Mixed Water Temperature;
Tamper-Resistance Cap;
Low Headloss;
Outlet Temperature Strip.

Technical Specifications:
Connections: 1/2" Union Thread;
Heat Capacity: 2.3 Cv;
Maximum Flow: 20 GPM (76 L/Min);
Minimum Flow: 1 GPM (3.8 L/Min);
Hot Supply Temperature: 120-180°F (49-82°C);
Cold Supply Temperature: 39-80°F (5-27°C);
Maximum Inlet Pressure: 230 psi (15.85 Bar);
Maximum Variation in Supply Pressure: 20%;
Minimum Temperature Differential Between Hot Supply and Mixed: 27°F (15°C);
Outlet Temperature Range: 85-175°F (29-80°C);
Factory Set to: 115-120°F (41-45°C);
Accuracy of Outlet Temperature: ± 3°F;
Approvals: ASSE 1017, CSAB125.3, cUPC.
Options
3-Way
Size
1/2"
Connections
Threaded
Application
Heating
Plumbing
Series
5000
Product Type
Mixing Valves
Temperature Range
85-175F
Brand
Taco
Taco 1/2" Union Threaded Mixing Valve (Lead-Free), 85F-175F