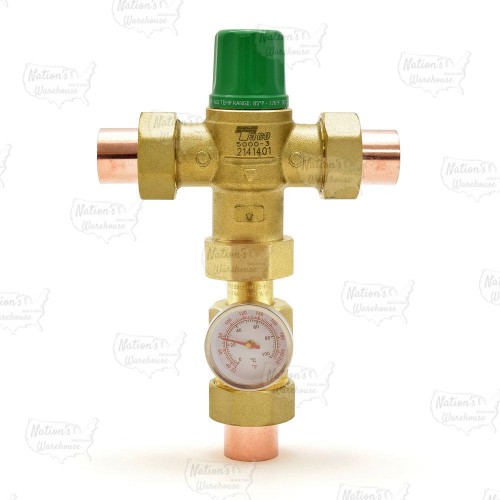 The 5003-C3-G from Taco is a 3/4" Union Sweat Mixing Valve w/ Temperature Gauge (Lead-Free), 85F-175F. It allows to mix domestic hot water at a temperature high enough to kill harmful bacterial but deliver it at a safe and comfortable temperature of 120°F or less. Temperature gauge to display output water temperature included.

Features:
Lead-Free Compliant (≤25% Lead);
Temperature Gauge Included;
Ideal for Domestic Water Distribution Points;
Suitable for use in Potable Water;
Delivers Stable Mixed Water Temperature.

Technical Specifications:
Connection: 3/4" Union Sweat;
Maximum Flow: 20 GPM (76 L/Min);
Minimum Flow: 1 GPM (3.8 L/Min);
Hot Supply Temperature: 120-180°F (49-82°C);
Cold Supply Temperature: 39-80°F (5-27°C);
Maximum Inlet Pressure: 230 psi (15.85 Bar);
Maximum Variation in Supply Pressure: 20%;
Minumum Temperature Differention Between Hot Supply and Mixed: : 27°F (15 °C);
Outled Temperature Range: 85-175°F (29-80°C);
Factory Set To (115-120°F (41-45°C);
Accuracy of Outlet Temperature: ±3°F.
Options
3-Way
Size
3/4"
Connections
Sweat
Application
Heating
Plumbing
Series
5000
Product Type
Mixing Valves
Temperature Range
85-175F
Brand
Taco
Taco 3/4" Union Sweat Mixing Valve w/ Temperature Gauge (Lead-Free), 85F-175F