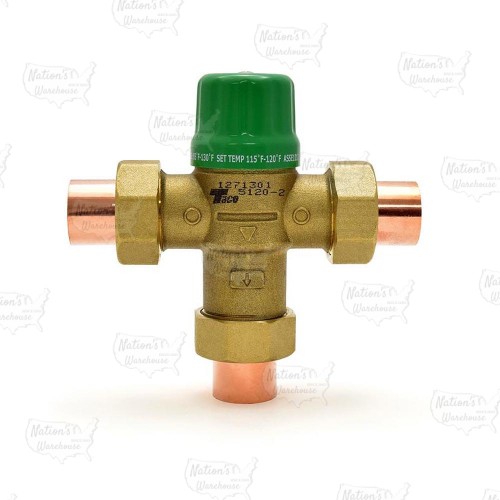 The 5123-C2 from Taco is a 3/4" Union Sweat Mixing Valve (Lead-Free), ASSE 1070, 85F-120F. It's designed for use at the water heater to distribute controlled water temperatures to the domestic hot water system and is suitable for use in Potable Water.
Taco's new 5123-C2 Low Lead Mixing Valve makes it ideal for use in the distribution of water through a domestic hot water system. The valve's unique design and advanced thermostatic element doesn't require routine maintenance and ensures a stable mixed water temperature throughout the valves adjustable range. The Second-generation material was tested and calibrated under closely controlled conditions ensuring durability and functionality.

Materials
Body: Forged Brass (≤.25% Lead Brass);
Internal Components: ≤.25% Lead Brass, Noryl GFN2;
Seals: Viton;
Spring: Stainless Steel;
Piston: Polysulfone;
Gaskets: EPDM.

Features:
Lead-Free Compliant (≤.25% Lead);
Suitable For Use in Potable Water;
No Routine Maintenance Required;
Lockable Maximum Temperature Setting;
Outlet Temperature Strip.

Technical Specifications:
Connections: 3/4" Union Sweat;
Heat Capacity: 1.8 Cv;
Maximum Flow: 14 GPM (54 L/Min);
Minimum Flow: 1 GPM (3.8 L/Min);
Hot Supply Temperature: 120-180°F (49-82°C);
Cold Supply Temperature: 39-80°F (5-27°C);
Maximum Inlet Pressure: 200 psi (13.8 Bar);
Maximum Variation in Supply Pressure: 20%;
Minimum Temperature Differential Between Hot Supply and Mixed: 27°F (15°C);
Outlet Temperature Range: 85-120°F (29-49°C);
Factory Set to: 115-120°F (41-45°C);
Accuracy of Outlet Temperature: ± 3°F;
Approvals: ASSE 1017 / 1070, CSA125.3, cUPC.
Options
3-Way
Size
3/4"
Connections
Sweat
Application
Plumbing
Series
5100
Product Type
Mixing Valves
Temperature Range
85-120F
Brand
Taco
Taco 1/2" Union Sweat Mixing Valve (Lead-Free), ASSE 1070, 85F-120F