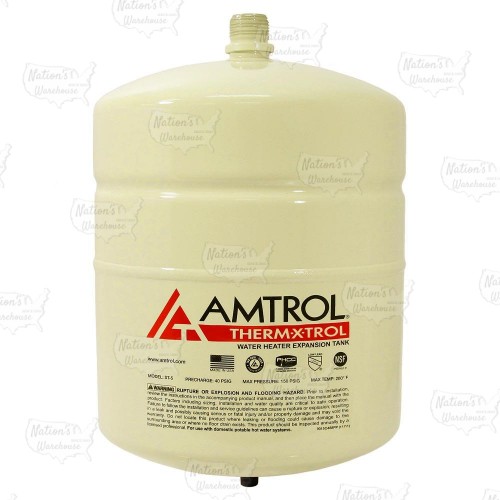 The 140N43 from Amtrol is a Therm-X-Trol ST-5 Thermal Expansion Tank. It's designed for use in domestic hot water heating systems to eliminate the potential hazards of water expansion.
Water heater expansion tank is commonly installed in a domestic hot water system that contains a backflow preventer, a check valve or a pressure reducing valve.

Features:
Eliminates the waste of energy and water, thus saving money;
Protects the water heater and plumbing fixtures from premauture failure;
Reduces potential safety hazards associated with thermal expansion;
Prevents a dangerous pressure build-up in the system;
Prevents the relief valve from going off;
Therm-X-Trol brand is the #1 choice of Professional Installers;

Standards & Approvals:
NSF/ANSI 61®, IAPMO, SBCCI & City of Los Angeles listings.
Amtrol ST-5 Applications:
Residentail water heaters, laundromats, dormitories, office/apartment buildings, restaurants, etc.

Technical Specifications:
Factory pre-charged 40 psig;
System connection: 3/4" male threaded;
Stainless steel system connection;
Max. operating temperature: 200F;
Max. operating pressure: 150 psi;
Expansion tank volume: 2.0 gallons;
Max. acceptance factor: 0.45;
Height: 12-5/8";
Diameter: 8";
Shipping weight: 5 lbs.

Warranty:
5-year manufacturer's warranty.
Application
Plumbing
Volume
2 Gallons
Series
Therm-X-Trol
Product Type
Expansion Tank
Brand
Amtrol
Amtrol 140N43 Therm-X-Trol ST-5 Thermal Expansion Tank