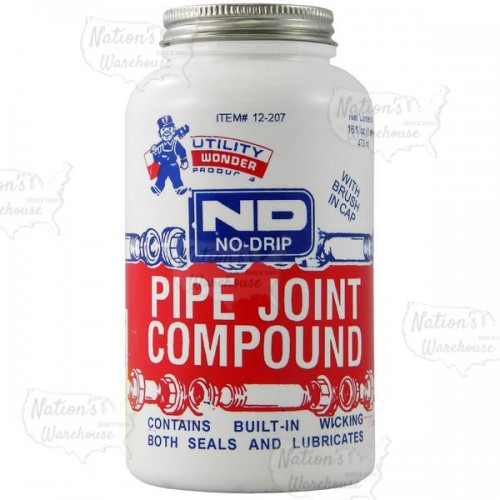 The 12-207 from Utility Wonder is a No-Drip Pipe Joint Compound w/ Brush Cap, 16 oz (1 pint). It seals and lubricates and is especially good for brass and all threaded connections on gas, air water and steam lines.

Features:
16 oz (1 pint) container;
Lead-Free;
Cap with brush;
Won't spill or dry out;
Grey color;
Meets Fed. Spec. TT-S-1732

Technical Specifications:
Temperature rated: -120°F to +600°F;
Pressure rated up to 10,000 psi.
Size
1 pt
16 oz
Product Type
Pipe Dope
Thread Sealant
No-Drip Pipe Joint Compound w/ Brush Cap, 16 oz (1 pint)