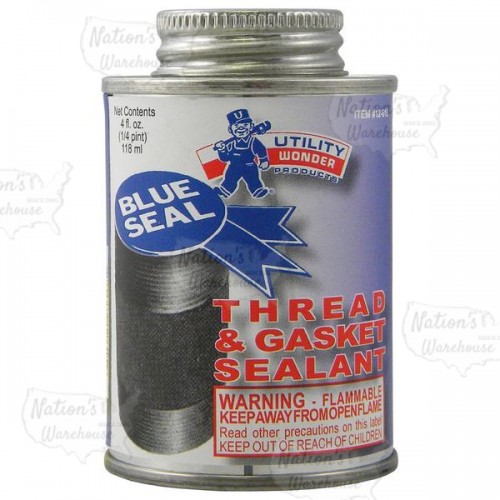 The 12-615 from Utility Wonder is a Blue-Seal Pipe Joint Sealant w/ Brush Cap, 4oz (0.25 pint). It's ideal for sealing threaded connections, as well as gaskets and flanged surfaces. It sets quickly and can be used with all common metal pipes, valves and fittings, including brass, copper, black, steel, PVC, CPVC, PE and others.

Features:
4 oz (1/4 pint) container;
Lead-Free;
Comes with applicator cap;
Made in the USA;
Suitable for use with hot/cold water, steam, natural gas, propane, butane, hydraulic/heating/mineral/vegetable/diesel fuel oils, freon, nitrogen, kerosene, compressed air, dilute acids and caustics, ammonia, helium, gasoline, jet fuel (JP4, 5 and 6), brine, liquid sugar and carbon dioxide;
Won't crack, crumble, harden or shrink;
Stays flexible on connections subject to vibrations;
Meets Fed. Spec. TT-S-1732

Technical Specifications:
Temperature Rated: -100°F to +400°F;
Pressure Rated: 12,000 psi (for liquids) or 3,000 psi (for gas).
Size
1/4 pt
4 oz
Product Type
Pipe Dope
Thread Sealant
Blue-Seal Pipe Joint Sealant w/ Brush Cap, 4 oz (1/4 pint)