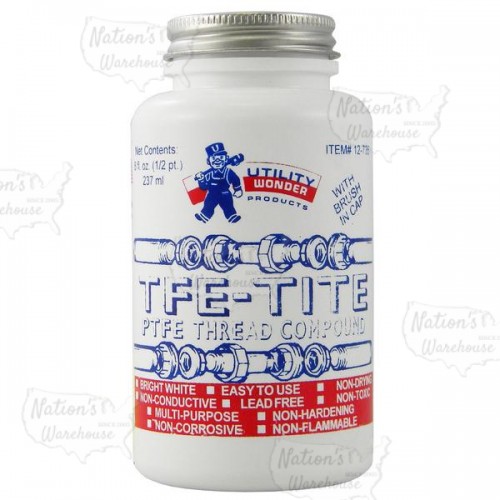 The 12-735 from Utility Wonder is a TFE-Tite PTFE Pipe Joint Compound (Teflon Paste) w/ Brush Cap, 8oz (0.5 pint). It's a joint compound with high Teflon content suitable for a wide range of applications, including on water, gas, steam and other threaded connections.

Features:
8 oz (½ pint) container;
Bright white color;
Lead-Free;
Maximum Teflon (PTFE) content;
Comes with applicator cap;
Made in the USA;
Suitable for use with hot and cold water, steam, gases (natural, propane, butane), alcohols (glycols, ethanol, methanol, glycerin, amyl alcohol), salt water (sodium acetatem sodium bisulfate, sodium chloride, sodium nitrate, sodium sulfite, sodium sulfate, ammonium chloride, copper chloride), castor oil, sulfonated oils, turpentine;
Won't crack, crumble, harden or shrink;
Non-corrosive;
Non-flammable;
Non-conductive;
Not for use on oxygen lines;
Meets Fed. Spec. TT-S-1732

Technical Specifications:
Temperature Rated: -200°F to +500°F;
Pressure Tested up to 10,000 psi.
Size
1/2 pt
8 oz
Product Type
Pipe Dope
Thread Sealant
TFE-Tite PTFE Pipe Joint Compound (Teflon Paste) w/ Brush Cap, 8 oz (1/2 pint)