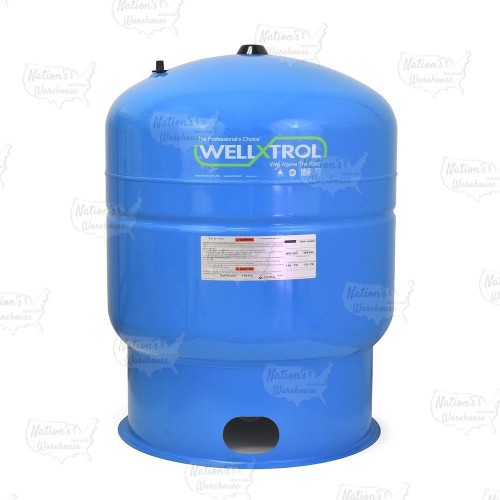 The 147S44 from Amtrol is a Well-X-Trol WX-2015 Well Tank (34 gal volume). Precharge Pressure for the WX-205 Well Water System Pressure Tank is 38 PSIG and the Maximum Working Pressure is 125 PSIG.
Heavy duty butyl diaphragm of the Amtrol WX-205 well pressure tank is the thickest in the industry and features seamless construction for uniform strength and flexibility. It conforms exactly to the shell configuration without stretching, creasing, or forming bubbles or corners that could trap water or sediment. Butyl is the best known elastomer to prevent air loss. Heavy duty butyl diaphragm is extremely resistant to bacterial growth and meets FDA requirements for potable water supply.
Polypropylene liner provides a 100% corrosion resistant, non-metallic rigid water reservoir that is listed by NSF International Standard 61. Welded air valve is permanently attached rather than mechanically threaded to prevent loss of air pressure and to minimize stress on the well's pump system. It also carries a tamper-evident warning label. Exclusive welding process eliminates interior rough spots and sharp edges that can damage the diaphragm and liner. Deep-drawn steel domes offer twice the strength of rolled steel while minimizing weight of the Well Water Tank.

Features:
Attached welded air valve prevents loss of air pressure;
The finest quality steel of the deep-drawn dome for extra strength and minimum weight;
Unique positive hoop ring seal secures diaphragm and liner for added strength and reliability;
Exclusive butyl diaphragm;
100% corrosion-proof virgin polypropylene liner;
Stainless-steel system connection withstands aggressive water;
Each finished tank is pressure tested for safety;
Each finished tank is pre-pressurized to the most common pump cut-in pressure;
Exterior appliance-like finish looks attractive while protecting the tank from the elements;
All parts, including the polypropylene liner, butyl diaphragm, and stainless acceptance fittings are listed by NSF International Standard 61;

Technical Specifications:
Factory pre-charged pressure: 38 PSI;
System connection: 1-1/4" FNPT;
Max. operating temperature: 200F;
Max. working pressure: 125 PSIG;
Tank volume: 34 gallons;
Max. accepted factor: 1;
Height: 29-5/8";
Diameter: 22";
Shipping weight: 61 lbs;
Shell: Steel;
Diaphragm: Heavy Duty Butyl;
Liner: Virgin Polypropylene;
Coating: Blue Enamel;

Warranty:
7-year manufacturer's warranty.
Application
Plumbing
Volume
34 Gallons
Series
Well-X-Trol
Product Type
Expansion Tank
Brand
Amtrol
Well-X-Trol WX-205 Well Tank (34 gal volume)