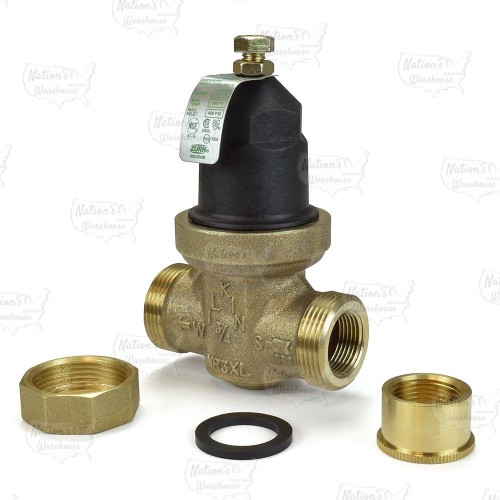 The 34-NR3XL from Zurn is a 3/4" Pressure Reducing Valve 15-75 psi (Lead-Free). Designed for installation on potable water lines to reduce high inlet pressure to a lower outlet pressure. The integral strainer makes this device most suitable for residential water systems that require frequent cleaning of sediment and debris. The direct acting integral by-pass design prevents buildup of excessive system pressure caused by thermal expansion. The balance piston design enables the regulator to react in a smooth and responsive manner to changes in system flow demand, while at the same time, providing protection from inlet pressure changes. Provides highest level of corrosion resistance.

Features:
ASSE Listed 1003;
IAPMO Listed;
CSA Certified;
NSF Listed - Standard 61, Annex G (0.25% MAX. WEIGHTED AVERAGE LEAD CONTENT);
Certified to NSF/ANSI 372 by IAPMO R&T (0.25% MAX. WEIGHTED AVERAGE LEAD CONTENT).

Technical Specifications:
Sizes: 3/4" FNPT (Single Union);
Minimum Inlet Pressure = 80 PSI as per UPC Code;
Maximum Working Water Pressure: 400 PSI;
Maximum Working Water Temperature: 140°F;
Reduced Pressure Range: 15 to 75 PSI;
Factory Preset: 50 PSI;
Cold Water Rated Temperature: 73.4°F @ 400 PSI.
Size
3/4"
Connections
FNPT Union x FNPT
Application
Plumbing
Series
NR3XL
Product Type
Pressure Reducing Valves
Brand
Zurn
Max Temperature
140F
Factory Setting
50 psi
Adjustable Range
15 - 75 psi
Max Inlet Pressure
400 psi
3/4" Pressure Reducing Valve, 15-75 psi (Lead-Free)