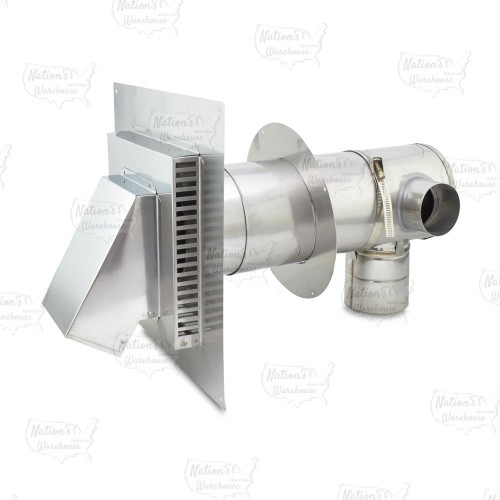 4" Concentric Vent Kit is manufactured from Category III stainless steel and is a must-have for all direct vent, sealed combusion (intake air from outdoors) Takagi tankless water heater installations.
If the unit is vented through the same wall it is installed on (typically, right above it) and the installation requires that the fresh air supply for the tankless water heater to be from outdoors, this kit is a convenient, cost-effective and easy-to-install solution.
This concentric vent kit is designed for 5-10" thick walls.
Features include:
The flue connection on the concentric vent kit is 4" and is poining downwards, allowing to connect it to the flue outlet of the Takagi tankless water heater with a single straight pipe run;
The intake connection on the concentric vent kit is 3" and is poining to the side. To accommodate the installer, the intake could be rotated from side to side, pointing either to the right or to the left (picture shows intake pointing to the right);
Adjustable thimble allows for installation in 5-10" thick walls;
The OD of the concentric vent kit's body is only 6" and requires a hole diameter 6.5"-7", allowing for a faster installation with minimal wall instrusion;
Application
Heating
Plumbing
Product Type
Venting Parts
Brand
Z-Flex
Z-Vent Concentric Vent Kit w/ 3" Fresh Air Intake and 4" Exhaust